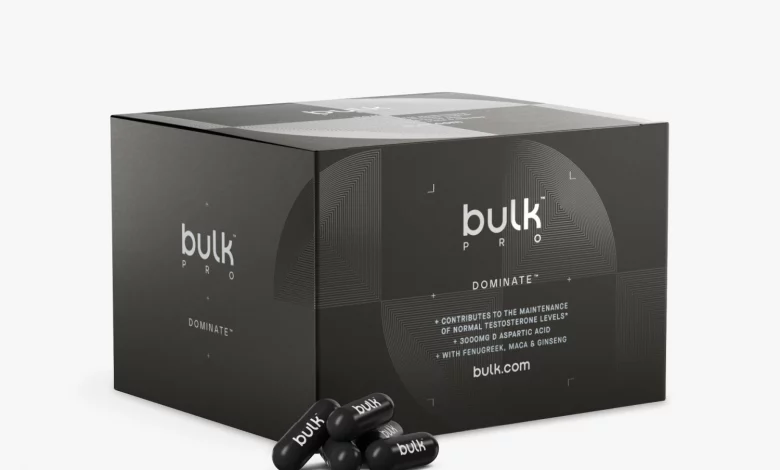 Testofuel vs Bulk Dominate Review
Today we're looking at Testofuel, developed by Roar Ambition, who we ranked best testosterone booster for muscle growth on our list of the best testosterone boosters for 2022 and the challenger Dominate, a testosterone supplement (also aimed at muscle growth) from fitness industry giants Bulk, formerly known as Bulk Powders. If you're looking for a guide to pick the right supplement then you've come to the right place.
Testofuel Brand Overview
Roar Ambition specialise in making premium fitness supplements, such as the Instant Knockout and Hunter ranges. Many of their products are endorsed by professional athletes and fighters like bodybuilding legend Robby Robinson and UFC fighter Diego Sanchez, and they are regularly updated to reflect the latest nutritional research and evidence. Testofuel is one of only a select few alike supplements that contains clinically proven ingredients. It has many positive testimonials and customer reviews worldwide and the company has a good reputation for effectively resolving customer queries and issues. Testofuel is available to buy directly from the manufacturer at www.roarambition.com or through the official product website www.testofuel.com, and they offer worldwide delivery at no extra cost.
Bulk Dominate Brand Overview
Bulk Powders, recently rebranded as simply 'Bulk', are similarly a sports nutrition brand who offer a variety of protein, vitamin, and weight loss supplements. They have expanded now to also provide a wide range of health foods such as nut butters, superfood powders and fish oils. As with Roar, Bulk also has several celebrity endorsements including boxer Anthony Joshua and reality TV star Lucy Mecklenburgh, an array of positive reviews, and a good reputation for responding to complaints and questions.
Bulk's health and nutrition claims have come under fire though. In 2020 the company were heavily fined for false claims and misleading consumers after a Trading Standards investigation discovered 55 breaches of labelling legislation. They failed to act on advice and guidance from officers on seven separate occasions and were then sentenced for 30 charges under the Nutrition and Health Claims Regulations 2007. Dominate is available to purchase through the Bulk website at www.bulk.com and can be delivered anywhere within Europe.
Testofuel vs Bulk Dominate – Ingredients List
Using natural ingredients in a non-proprietary blend with clearly stated doses reflects well for both options here. The nutritional values listed below have been calculated to reflect the most recent update (February 2022) to recommended intakes(1) from the Food and Drug Association (FDA). The product website and packaging for Testofuel has been updated to show these figures, however Bulk is yet to follow suit as their product still displays the outdated values.
Testofuel Ingredients
Vitamin D3 (Cholecalciferol), Vitamin K2 (MK4), Magnesium (Magnesium Aspartate), Zinc (Zinc Monomethionine and Aspartate), D-Aspartic Acid, Maca Root Extract, Asian Red Panax Ginseng Extract, Oyster Extract, Fenugreek Seed Extract, Boron (Chelate), Vegetable Cellulose (Capsule), Anti-Caking Agents (Magnesium Stearate, Silicon Dioxide)
Testofuel Nutritional Value (Per Serving)
Vitamin D3 100mcg/4000IU (500% Daily Value), Vitamin K2 18mcg (15% Daily Value), Magnesium 70mg (17% Daily Value), Zinc 10mg (91% Daily Value), D-Aspartic Acid 2000mg, Maca Root Extract 180mg (1800mg Maca Root Powder Equivalent), Asian Red Panax Ginseng Extract 100mg, Oyster Extract 100mg, Fenugreek Seed Extract 50mg (800mg Fenugreek Seed Powder Equivalent), Boron 8mg
Dominate Ingredients
D-Aspartic Acid, Capsule Shell (Hydroxypropyl Methyl Cellulose), Fenugreek Powder, Zinc Citrate, Anti-Caking Agents (Magnesium Stearate, Silicon Dioxide), Bulking Agent (Microcrystalline Cellulose), Panax Ginseng Extract 10:1, Maca Root Extract 10:1, Vitamin D3 (Cholecalciferol), Pantothenic Acid (Calcium Pantothenate), Black Pepper Extract (BioPerine), Selenium (Sodium Selenite)
Dominate Nutritional Value (Per Serving)
D-Aspartic Acid 3000mg, Fenugreek Powder 600mg, Panax Ginseng Extract 50mg, Maca Root Extract 50mg (500mg Maca Root Powder Equivalent), Zinc 30mg (273% Daily Value), Pantothenic Acid 10mg (200% Daily Value), BioPerine 5mg, Selenium 55mcg (100% Daily Value), Vitamin D3 25mcg (125% Daily Value)
Testofuel vs Bulk Dominate – Ingredients Benefits
Testofuel and Dominate share a lot of common ground in terms of key ingredient choices, so we will break these down first.
Vitamin D – This is the nutrient our bodies produce when we come into contact with UV rays from the sun. Most people don't get nearly enough though, particularly those of us living in the west. Clinical trials have exhaustively evidenced Vitamin D's ability to significantly boost testosterone levels and muscle strength, particularly at daily levels of 3332IU (83mcg) and above(2)(3). Testofuel hits the mark perfectly with a serving size of 4000IU (100mcg). Although Dominate still beats some of the other competitors that choose to completely exclude Vitamin D, the provided dose of 1000IU (25mcg) per day is too low to feel the full benefit.
D-Aspartic Acid – This essential amino acid is known to aid the production of several hormones, including testosterone(4). Testofuel contains 2g per day and Dominate offers a higher quantity of 3g per day. There hasn't yet been enough research to identify the optimum dosage however we do know that in as little as 90 days it is capable of doubling sperm count and raising test levels up to 60%(4).
Fenugreek – A herb packed full of zinc, magnesium, and selenium; fenugreek has the ability to support our free testosterone levels by stopping sex hormone-binding globulin (SHBG) from limiting testosterone release(4). Dominate provides 600mg with Testofuel coming in a little higher at 800mg.
Panax Ginseng – Another herb that delivers many benefits, namely improved mood and cognitive ability, strengthened immune system, and enhanced libido. It increases the release of luteinizing hormone (LH) and adrenocorticotropic hormone (ACTH) which stimulate testosterone release(7). Dominate offers us 50mg but again, Testofuel includes the doubled amount of 100mg.
Maca Root – The final common herb between the two T booster options is maca. It's ability to improve mood and general wellbeing, and raise libido is well documented, but it is also known for its workout boosting properties. Research has proven that it increases stamina and endurance, making it perfect for an active lifestyle(8). Dominate contains 500mg whereas Testofuel offers an impressive 1800mg.
Zinc – An essential mineral with numerous health benefits that similarly to ginseng, increases the release of luteinizing hormone (LH) which stimulates testosterone release. There are many types of zinc available, often inorganic forms that are just not nearly as effective or absorbable as chelated sources(9). Both products here use different varieties of chelated zinc, which is great. Testofuel provides 10mg whilst Dominate packs in 30mg. Testofuel does reduce this gap however by also adding zinc-stuffed oyster extract.
As you can see, they share some main ingredients of which Dominate provides the higher dose of a couple, but Testofuel manages to pack in more of most. Next, we'll have a look at where they differ, starting with Testofuel.
Magnesium – An essential mineral that supports brain, bone and heart health, boosts endurance and metabolism, improves sleep quality, and helps our bodies regulate muscle strength. Alongside these and numerous other general health benefits, it has been found to significantly raise testosterone levels(10) and Testofuel provides a 70mg dose of one of the most bioavailable forms, Magnesium Aspartate.
Vitamin K – This vitamin works wonders for bone health and cell repair, and hugely compliments vitamin D and magnesium in increasing testosterone release(11). Testofuel provides all three with a 18mcg dose of vitamin K.
Oyster Extract – An incredibly high natural source of zinc and a well-known aphrodisiac, oysters also improve reproductive function and prevent testosterone converting to estrogen. Testofuel delivers 100mg and the only downside here is oyster being unsuitable for some diets and a common allergen.
Boron – Naturally found in various green vegetables, boron is known to help our bodies produce testosterone(12). It also boosts the effectiveness of vitamin D, so this is yet another Testofuel component, in an 8mg dose, that works well with the other ingredients.
Finally, what else is in Dominate?
Pantothenic Acid – An essential B vitamin that helps our bodies utilise proteins and carbohydrates and promotes healthy skin. Having too little of this vitamin can decrease testosterone levels(13), however deficiencies are rare. Dominate offers 10mg.
BioPerine – Black pepper extract improves our bodies nutrient absorption rate and has anti-inflammatory and antioxidant properties. A 5mg dose is in Dominate to boost some of the other ingredients.
Selenium – An essential mineral that boosts the immune system and contributes to sperm production and quality(14). Bulk Dominate meets the daily minimum of 55mcg.
Testofuel and Bulk Dominate both contain plenty of ingredients with testosterone boosting properties. However, we feel that Testofuel has the edge due to higher doses of some important inclusions and their decision to use such a complimentary blend. It's also worth noting that Bulk Dominate contains an indigestible and insoluble wood pulp fibre bulking agent. This is used in tablet manufacturing when doses are low, but for a product with so many ingredients and such a high quantity serving size, we just don't understand why it has been used.
Testofuel vs Bulk Dominate – Servings
The serving instructions for Testofuel and Dominate are quite different. Testofuel requires you to take 4 capsules evenly spread throughout your day, whereas Bulk Dominate requires you to take 6 capsules. Bulk suggests that on non-training days you should evenly spread the 6 capsules out, with each ideally being taken 30 minutes before food, but on training days you should take 2-4 in one go before exercise and the remaining 2-4 should be spaced out over the day.
Dosage strength and frequency play a big part in the overall effectiveness of a product, the consistency of ingredient intake and the likelihood of consumer compliance, so getting the balance right is crucial. For this kind of supplement, 3 to 4 servings a day is ideal to make sure your body stays continuously stocked up on the relevant nutrients, and that you can intake enough each day for optimum dosage. 1 or 2 servings often just doesn't provide nearly enough of the important ingredients to be effective, or when they do provide a high dose, it's too much to absorb in one go. On the other hand, evidence suggests that the less we need to take per day, the more likely we are to stick to our supplement or medication schedule(15). So, while Testofuel and Dominate both offer a high and regular dosage, Testofuel is the better balanced and consumer friendly option. The serving frequency is realistically more manageable, and the simple schedule avoids confusion by suggesting taking the same amount daily regardless of when you work out.
The manufacturers of Testofuel recommend taking it daily for at least 2 months to reach the maximum benefits but note that you should start to feel some effects in as little as a few days. They also stipulate that cycling isn't necessary. On the contrary, Bulk state that Dominate is most effective when used in a 4-8 week on then 4-8 week off cycle. One bottle of each supplement offers a 30-day supply.
Testofuel vs Bulk Dominate – Side Effects
Products of this nature are generally very safe when used correctly. They are only intended to be used by adults and must be taken as directed. It is important to check the ingredients for any personal allergens or intolerances, and you can consult your doctor if you have any concerns about taking medication that may clash. Due to this we strongly recommend avoiding supplements that don't provide a complete and transparent ingredients list.
Is Testofuel safe? All Roar Ambition products are manufactured in high class cGMP certified facilities in the USA and UK, and only use natural ingredients that are known to be safe for daily use. Testofuel can be taken over a long period of time and is formulated in a way that doesn't require cycling. It can be safely combined with any other supplement too such as multivitamins or protein shakes. This product also contains zero banned substances, although it does include shellfish, a common allergen.
Is Bulk Dominate safe? Over 80% of Bulk products are manufactured in their own UK-based state of the art facilities and use a wide range of safe ingredients. Dominate is aimed specifically at athletes, so they need not fear unexpectedly failing a drug test as every batch is tested for banned substances in an accredited laboratory under the Informed Sport programme. Dominate is safe for long term use, can be combined with other supplements, and contains no common allergens, though Bulk do recommend taking it in 4 to 8-week cycles.
Testofuel vs Bulk Dominate – Pricing
Bulk Dominate is priced at £39.99 per bottle on the Bulk website, which often has a bulk buy discount offer available. Testofuel almost matches this price at £45.00 or $65.00 for one bottle when bought through the official product or manufacturer websites and can be bought as part of various bulk buy deals that offer discounts or free products. Both offer free delivery, and while this is worldwide for Testofuel, Bulk products can only be shipped to Europe.
If you have purchased either of these products then change your mind, the refund policies here are similar. Testofuel state the product must be unused and returned within 30 days of purchase, then they will refund via the payment method you originally used. Comparatively, Bulk will accept your Dominate return either unused or lightly used and it must be within 28 days of purchase but will only refund in the form of account credit for future purchases.
Testofuel vs Bulk Dominate – Conclusion
Our Testofuel vs Bulk Dominate T booster review has a clear winner. Both test booster supplements are very safe and contain plenty of research proven ingredients, but Testofuel outshines Dominate in most areas. It has a higher dose of most of the shared ingredients, a better selection of other ingredients for optimal results, and a more manageable serving size and schedule.
Roar Ambition is a reputable company, and you can rest assured that their formulas will be updated as soon as new research comes to light. Bulk, previously known as Bulk Powders, on the other hand, have been known for misleading nutrition claims. Bulk sell an enormous range of health food and supplements so Dominate certainly wouldn't be a bad choice if you're looking to purchase multiple items. In contrast, Roar specialise in making a much smaller range of premium products like Testofuel, and we feel it's worth paying only £5 more a bottle to get the best quality.
References
1.     https://www.fda.gov/food/new-nutrition-facts-label/daily-value-new-nutrition-and-supplement-facts-labels
2.     https://pubmed.ncbi.nlm.nih.gov/21154195/
3.     https://pubmed.ncbi.nlm.nih.gov/25156880/
4.     https://pubmed.ncbi.nlm.nih.gov/19860889/
5.     https://www.academia.edu/28615865/D_Aspartate_a_Key_Element_for_the_Improvement_of_Sperm_Quality
6.     https://pubmed.ncbi.nlm.nih.gov/32048383/
7.     https://pubmed.ncbi.nlm.nih.gov/9063034/
8.  https://www.academia.edu/15239149/A_pilot_investigation_into_the_effect_of_maca_supplementation_on_physical_activity_and_sexual_desire_in_sportsmen
9.  https://pubmed.ncbi.nlm.nih.gov/20852107/
10.  https://pubmed.ncbi.nlm.nih.gov/20352370/
11.  https://pubmed.ncbi.nlm.nih.gov/21914161/
12.  https://pubmed.ncbi.nlm.nih.gov/10376277/
13.  https://pubmed.ncbi.nlm.nih.gov/19959891/
14.  https://pubmed.ncbi.nlm.nih.gov/19856162/
15.  https://pubmed.ncbi.nlm.nih.gov/1815972/