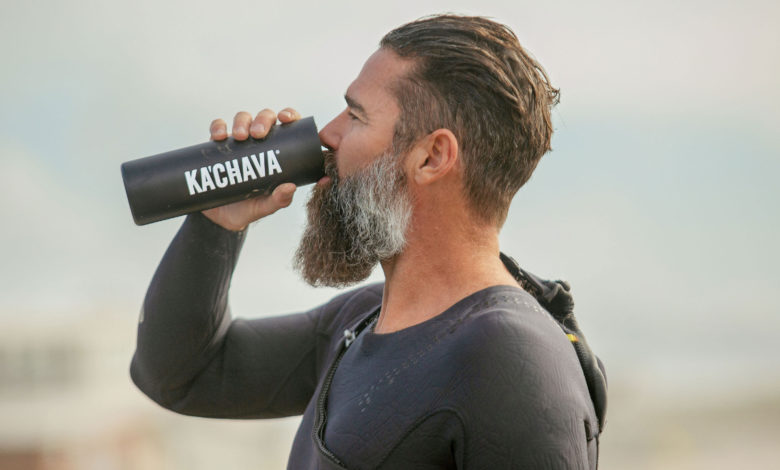 KaChava is a plant-based superfood meal replacement designed for busy, always on-the-go people. KaChava provides a healthy diet for active people that don't have time to cook.
If you're the type of person who never stops, KaChava might be just the meal replacement shake for you.
KaChava is perfect for a quick refuel between launching a startup and taking a trip in the kayak down your favourite whitewater route. With real food ingredients, KaChava is a all in one supplement.
It has many health benefits and includes heaps of essential nutrients. It is considered one of the best meal replacement shakes on the market thanks to its high nutrient content.
KaChava Meal Replacement Summary 
KaChava is a great meal replacement shake for men and women who are looking to lose weight or are focused on weight management more generally.
As many Ka'Chava reviews have pointed out, it is one of the healthiest meal replacement powders with over 70 different ingredients and can be part of a healthy diet.
Where KaChava falls short is in fats and calories per serving. This means it's suitable for lightweight training, inside or outside sports, and weight issues, but really isn't suitable for anyone attempting to put on muscle mass at the gym.
KaChava Pros
Certified Organic
Gluten Free and Soy Free
Free from artificial colours and sweeteners
Vegan: with plant-based proteins
Plenty of vitamins and minerals
KaChava Cons
Expensive
Not suitable for athletes or weight lifters
Contains added sugar
KaChava Ingredients 
The Ka'Chava meal replacement shake contains over 70 ingredients, that's more than we have time to discuss here.
Thankfully, these 70+ ingredients are divided into nine groups called blends.
The six blends are the protein blend, the adaptogen blend, an antioxidant/superfruit blend, the fibre blend, the super-greens/vegetable blend, the prebiotic/probiotic blend, and a digestive enzyme blend.
Let's take a look at the benefits of each one.
The KaChava Protein Powder Blend
One of KaChava's big selling points is that it includes enough protein powder (and fats and fibre) to keep you sated and energised for longer than most meal replacement shakes. This is important if you're using meal replacements to fuel an active lifestyle.
The protein powder in KaChava is sourced from plants, with an emphasis on yellow pea protein, quinoa, and whole brown rice protein.
There is also protein powder from the sacha inchi plant, also known as the mountain peanut, and from amaranth, which is both high in protein and contains essential amino acids rarely found in other grains.
The plant based protein blend in Kachava shakes will support your overall health while keeping you full and ensuring you maintain muscle mass.
The KaChava Adaptogen Blend
Adaptogens are all about helping the body adapt to stress. They support various bodily functions, allowing the body to continue functioning for longer even under extended periods of stress.
Adaptogens are typically herbs and mushrooms and they have been used in herbal medicine for aeons.
KaChava takes advantage of this old knowledge by including six different adaptogens: maca root, shiitake mushroom, maitake mushroom, reishi mushroom, ginger, and cordyceps mushroom.
The KaChava Antioxidant/Superfruit Blend
KaChava is bursting with vitamins and minerals. In part, this is thanks to the antioxidant superfruit blend.
Many of the superfruits are familiar household names—such as organic blueberry, organic tart cherry, strawberry, and raspberry—while others, like acai berries, camu camu berries, and maqui berries, might not be so familiar.
These superfruits offer a wide range of health benefits, from improving bone density to boosting your cardiovascular performance.
And since they have been reduced to powder for the KaChava mix, you can absorb all their goodness in just a few gulps of this delicious meal replacement shake.
The KaChava Fibre Blend
Whole grains and seeds are known for their high-fibre content. This is why KaChava's dietary fiber blend is almost exclusively comprised of chia seeds, flaxseeds, and pure whole grain oats.
With 9g of fibre in each serving of KaChava, you can be certain your digestion will be functioning smoothly.
What's more, beneficial gut bacteria feed on the fibre and carry out essential tasks including enhancing your gut barrier and preventing leaky gut syndrome.
The KaChava Super-Greens/Vegetables Blend
Everyone knows vegetables are full of healthy vitamins and minerals, but it can be hard to eat enough of them, particularly when leading a busy life.
The KaChava shake solves that problem by including 19 different vegetables in the super-greens blend. As the name suggests, the majority of these vegetables are green, like cucumber, kale, broccoli, spinach, and asparagus.
The KaChava Prebiotic/Probiotic Blend
As with consuming enough fibre, prebiotics and probiotics promote a healthy gut and smoothly functioning digestive system.
Ka'Chava contains the prebiotic inulin, and the probiotics lactobacillus rhamnosus and lactobacillus acidophilus. Together they cultivate beneficial bacteria in your gut and help to break down food.
The KaChava Digestive Enzymes Blend
To further aid digestion, KaChava meal replacement shakes includes a digestive enzymes blend.
Ordinarily, many of these digestive enzymes would be released naturally by the body when triggered by chewing. Since a shake is a liquid, this natural response doesn't get activated and a little support is beneficial.
Among the digestive enzymes in KaChava is amylase, an enzyme that helps to digest food. Another is protease, which are enzymes that break down protein.
There is also lactase, which supports the digestion of lactose, and lipase which is used to break down fats so that the intestines are able to absorb them.
The KaChava Vitamin Blend
On top of all the naturally occurring vitamins in the vegetables, fruits, grains, and seeds in the KaChava shake there is also a dedicated mix of added vitamins.
The vitamin mix is comprised of the most important vitamins for a healthy life: vitamin A, vitamin C, vitamin D, vitamin E, vitamin B1, vitamin B2, vitamin B6, and vitamin B12.
Together, these vitamins boost your immune system, improve cognitive functioning, encourage healthy hormone production, and offer a whole range of other benefits.
The KaChava Mineral Blend
Along with the added vitamins, KaChava has included a mineral blend to ensure you never want for minerals again.
The blend features many of the most vital minerals, including calcium, zinc, selenium, iron, and potassium.
There are a wide range of benefits attributable to these minerals. They support muscle growth and development, regulate blood sugar levels, promote a stable positive mood, strengthen the immune system, and improve memory.
KaChava Review: Ingredients Conclusion
The focus of KaChava's ingredients is on health and vitality. Other meal replacement powders have other, more specific goals, such as weight loss, or building muscle mass.
In addition to the long list of ingredients we've already covered, KaChava also includes coconut milk, and several natural ingredients to add flavour. These include cocao for the chocolate flavors.
Is KaChava Worth it? 
Given that KaChava is one of the more expensive meal replacement shakes, it's fair to ask, "is it worth the money?"
Not only is KaChava full of healthy ingredients, those ingredients are also organic, which inevitably increases the cost.
KaChava is a great meal replacement shake for anyone who wants to get their nutritional needs sorted while leading a hectic, active life.
If that sounds like you, then KaChava might be just what you're looking for.
But for anyone who wants to increase their performance in the gym, KaChava is a bit too lightweight. The low calories and fats per serving will leave your body wanting when you're putting it through its paces.
Another downside to KaChava-that other KaChava reviews have failed to mention-is that it contains added sugar. This may come as something of a surprise considering the product's otherwise healthy ingredients.
There are 5g of added sugar per serving. For anyone trying to eliminate sugar from their diet, this is a big drawback. Not to mention the health implications of eating 15-20g of added sugar a day as a result of using KaChava shakes.
KaChava Review: Conclusion
KaChava is clearly a good meal replacement shake that provides numerous benefits to the human body. The KaChava shake contains nutrient rich superfoods, tastes great, avoids artificial ingredients, is dairy free, gluten free, soy free, and an all around excellent addition to a healthy diet.
That said, KaChava is not for everyone. While it is fine for being healthy and for weight loss, KaChava is not the best choice for anyone focused on muscle growth. It simply lacks the necessary calories and fats in one meal to build muscles and push the body.
Other meal replacements are more suited to fitness goals, such as Instant Knockout Complete, which was designed by and for athletes for high performance and gym training.
The superfood ingredients in KaChava shakes are impressive and will certainly provide benefits such as increased brain function and a strong immune system. But the fact that Ka'Chava contains added sugar is an inexplicable anomaly that somewhat undermines the health benefits of the shake.
By all means buy Ka'Chava, but be sure this is the right shake for your health goals.