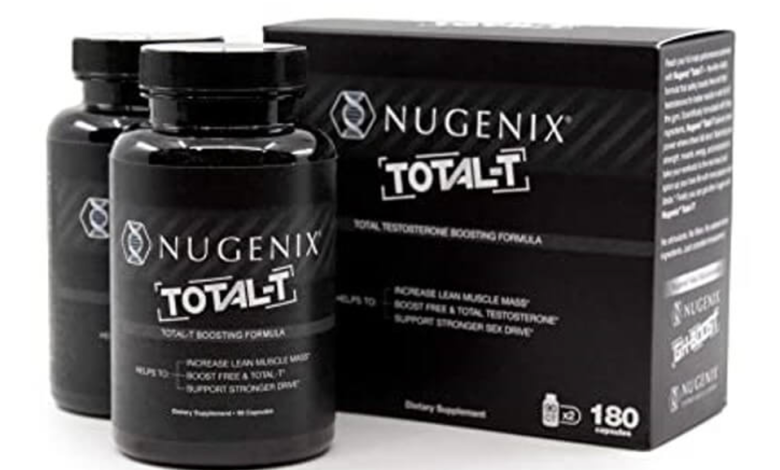 Maintaining optimum testosterone levels as you age is a challenge, and low testosterone is one of the main culprits of low energy, increased fat retention, and a loss of libido.
More and more men are now turning to testosterone boosters to reverse this decline and naturally stimulate testosterone production. In a crowded field with a seemingly endless array of brands though, how to tell which is the best testosterone booster?
In this review, we'll be taking an in-depth look at Nugenix Total T, one of several testosterone boosters manufactured by Adaptive Health LLC, a leading sports nutritional supplement company based in America.
Indeed, Adaptive Health's t boosting product selection is a prime example of choice overload. Is the decision to have four separate testosterone boosters backed up by science, or is it a case of the marketing team at Adaptive Health LLC running wild? Putting that question to one side, for now, let's find out more about Nugenix Total T.
Quick Take: Nugenix Total T Review
Pros:
Reasonable doses of fenugreek and boron should help boost testosterone levels, although the decision to use a patented extract of fenugreek is perhaps questionable.
Strong doses of L citrulline malate increase blood flow and lead to better erections, especially for men experiencing erectile dysfunction.
Some evidence it increases energy levels and helps improve athletic performance
Cons
Inclusion of a patented ATP extract that was subject to a class-action lawsuit
Small doses of zinc and Eurycoma Longifolia
Not a potent testosterone booster
Overpriced, with no free delivery
Shipments to the UK appear limited
What Are Nugenix Total T's Ingredients?
As far as the manufacturer is concerned, Nugenix Total T helps you reach your full male potential by naturally boosting testosterone levels, both 'free' and 'total,' when used alongside resistance training. Free testosterone refers to testosterone levels that are 'bioavailable', meaning your body's cells can make use of them, while 'total' testosterone levels include protein-bound testosterone.
Comprising eight key ingredients with no stimulants, fillers, or watered-down ingredients, Nugenix Total T's testosterone boosting formula claims to maximise your strength, lean muscle mass, energy, and endurance while also boosting your libido. Sounds good, but the ingredients and doses per serving suggest some of these claims may be exaggerated.
Fenugreek Seed Extract 600 mg (Testofen)
First up, one of the most common ingredients found in natural testosterone boosting supplement products, as well as in kitchen cupboards. Fenugreek is well-known for increasing testosterone levels [1], but the use of a patented extract – Testofen – seems unnecessary and, given the manufacturers paid out $7 million to settle a class-action lawsuit over the product's claimed efficacy, downright dubious.
Eurycoma Longifolia Root Extract 100 mg
Several studies have investigated Eurycoma's impact as a testosterone booster and come away with encouraging results. Not only does it increase total and free testosterone levels, it notably increases energy levels and improves athletic performance. It's worth noting though that the most comprehensive of these studies reported Eurycoma's positive effects at daily doses of 200 mg over three months. [2] Nugenix Total T, meanwhile, contains only 100 mg per serving.
ElevATP Blend 150 mg
ElevATP is another patented extract in Nugenix Total T's weaponry but, unlike Testofen, it's included for its energy-boosting properties. It does this by increasing the production of ATP, the primary energy carrier in the body. Containing little more than ancient peat extract and apple fruit extract, there have been few placebo controlled studies into ElvATP's effectiveness. One study found a marginal increase in athletic performance, but it won't do anything to boost your testosterone levels. [3]
Boron 10 mg
Boron is a welcome addition to Nugenix's ingredients list. It releases testosterone from sex hormone-binding globulins (SHBG) to increase free testosterone levels. One study determined that 10 mg of boron taken daily significantly increased free t levels after just seven days. [4]
Vitamin B6 2 mg & B12 2.4 mcg
These vitamins perform multiple functions in the body, helping to manage metabolism, energy, mood, and cognition. Its effect on testosterone production, however, is negligible although one study concluded it may support the regeneration of testosterone receptors. [5]
Zinc 1 mg
Zinc is an essential nutrient for any product that claims to boost testosterone production. [6] It is also the second most abundant mineral in the body, with an RDA of 11 mg for adult men and an upper tolerable limit of 40 mg. Nugenix Total T, however, only contains 1 mg of zinc per serving while many other testosterone booster products will include as much as 25 mg. Its beneficial impact, therefore, will be minor at best.
L Citrulline Malate 1125 mg
L citrulline malate is an amino acid that helps lower blood pressure and increases nitric oxide levels. These, in turn, can help significantly with treating erectile dysfunction. However, one of the few studies into this amino acid reported a decrease in bioavailable testosterone levels compared with a control group, so its inclusion should raise a few eyebrows. [7]
Nugenix Total T Overview
How do I use Nugenix Total T?
Take three capsules of Nugenix Total T once a day, with or without food. If you miss a day or two, it shouldn't have a significant bearing on outcomes.
Does it work?
The manufacturers make fairly bold claims about Nugenix Total T's effects when used in conjunction with resistance training, given the relatively tame and somewhat dubious nature of some of its ingredients.
Within 60 minutes, ATP production in your blood and muscles will increase providing more energy and leading to improved athletic performance. After three weeks, you'll notice an increased sex drive, and sometime between 6 to 12 weeks you will, in theory, have optimum free and total testosterone levels, increased muscle growth, maximised strength and endurance, and improved body composition.
These claims aren't quantified as such but we are nonetheless doubtful you will boost your testosterone levels to an optimum level with Nugenix Total T.
What do customers think of Nugenix Total T?
There are a lot of satisfied Nugenix Total T customers, as indicated by the respectable 4.1 star rating on Amazon. However, most of the good reviews from over-40s tend to focus on their increased sex drive and improvements to their mild erectile dysfunction. Younger customers are more pleased that the supplement helped them work out harder at the gym.
Many customers are less enthusiastic though, claiming it had no effect or that their testosterone levels had dropped after using it! Few, if any, reviews note increased testosterone after using this product.
Is it safe?
Nugenix Total T is manufactured in the USA under FDA guidelines for Good Manufacturing Practices. It contains no banned substances, but it is not suitable for vegans or vegetarians.
As for side effects, many customers complained that an earlier formulation of Nugenix Total T caused them gastrointestinal difficulties. It's thought this was due to the ratio of citrulline to malate, which has now been changed. Otherwise, none of the ingredients are known to cause serious side effects but, as with most health supplements, it's probably a good idea to consult with your doctor before taking it if you have any underlying medical conditions.
Where can I buy it?
Nugenix Total T is available to buy at various online vendors, including Amazon, GMC, and eBay as well as the manufacturer's webshop.
How much does Nugenix Total T cost?
Nugenix Total T is a little pricey compared to similar testosterone boosters. A 30-day supply will set you back $70. There are discounts on offer for bulk purchases though, but you also have to factor in shipping costs which start at $6.
All Nugenix purchases come with a 30-day money-back guarantee.
Nugenix Total T – Conclusion
Nugenix is a reasonable product that's well suited to older adult males that are looking to give their workouts, and sex life, a boost.
But it is far from being one of the most powerful testosterone booster products that's available these days, especially at its premium price.
This is mainly due to Nugenix Total T's combination of low doses for its most effective testosterone booster ingredients, as well as the inclusion of controversial patented extract formulas. Other testosterone supplements, such as TestoFuel, don't hold back with doses of proven testosterone booster ingredients, nor do they hide behind secretive, patented formulas
For a testosterone booster product that's big on hype, Nugenix Total T doesn't deliver the killer punch. The brand, perhaps, would do better to focus its efforts on one potent testosterone booster instead of spreading itself thin over several similar products.
References