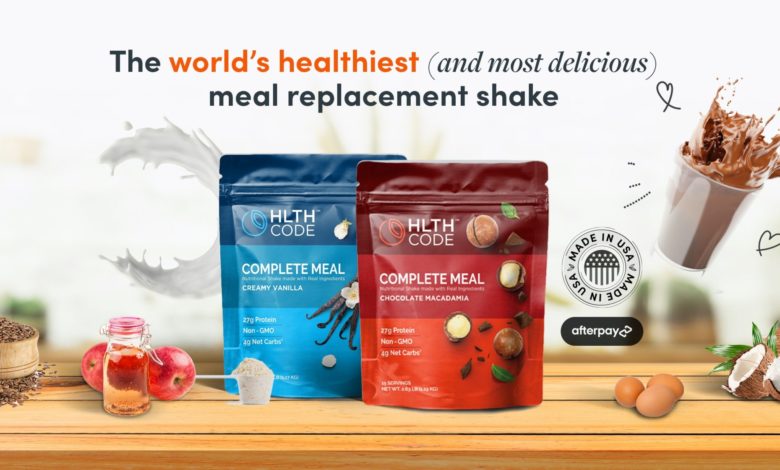 HLTH Code Meal Replacement Shake Review: Is There a Better Option?
The meal replacement market is saturated, and it can be overwhelming to try and figure out not only which options are genuinely worth buying, but also which one is best for your individual needs. Some are designed to aid weight loss, some for weight gain, some for specific diets, some for very active individuals, or some just simply to improve our health or cut down on food prep time.
Unfortunately though, many brands have exploited our desire for a quick fix and have created low quality products full of heavily processed and inflammatory ingredients. Our aim is to save you from wasting time and money by doing the research for you. Check out our Best Meal Replacement Shakes list to see which we recommend.
In this review we are looking at HLTH Code Complete Meal, a popular keto friendly meal replacement shake powder formulated by Dr. Benjamin Bikman, a human metabolism and nutrition researcher and speaker. He believes that our health thrives if we prioritise protein and dietary fats, and limit consumption of carbohydrates. Continue reading for the full breakdown of our HLTH Code review including why this shake did not get a place on our best list.
HLTH Code Nutritional Features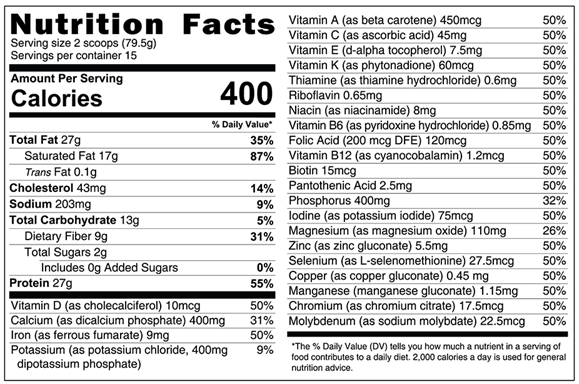 HLTH Code Complete Meal is comprised of high-quality ingredients that are free from genetically modified organisms (GMOs) and contain no artificial flavours, colours, or sweeteners. It is available in two flavours, 'Chocolate Macadamia' and 'Creamy Vanilla'. This shake is keto-friendly, gluten-free and soy-free, however it is not suitable for vegans or vegetarians as it contains animal-based collagen, milk and egg. One serving of this HLTH Code shake is 400 calories, which matches most similar products, and it also contains a dose of probiotics in the form of lactobacillus acidophilus.
The micronutrient values are on the higher end as most sit at 50% daily value per serving, with only 4 being between 9 and 32%. Whilst it's great to see such high quantities of the majority, it's a shame that two of the lower dosed essential nutrients are calcium and magnesium which happen to be two of the most important ones(1). Interestingly, HLTH Code also chose not to state how high the sodium dose is, which considering raw salt along with other sodium sources are added to this mix, we suspect that it may be quite a bit higher than most consumers would be comfortable with.
HLTH Code Complete Meal has a macronutrient value of 12/27/61 (carbohydrates/proteins/fats). We found this to be quite an unusual ratio for a meal replacement shake and wouldn't recommend it to anyone except those following a strict keto diet. The protein isn't too dissimilar from other meal replacement shakes and is higher than most keto-friendly options, but the carbohydrates are very low and the fat very high(2). One serving contains only 5% of the recommended daily intake of carbs and a shocking 87% of your daily saturated fat allowance. Losing weight is the most common reason for switching to a partial meal replacement plan, and HLTH Code couldn't be any further from either of the recommended macros for weight loss, 30/45/25 or 50/35/15.
HLTH Code Ingredients
Ingredients: Protein Blend (whey protein concentrate, grass fed collagen, egg whites), Healthy Fats Blend (coconut oil powder, olive oil powder, medium chain triglycerides powder, flaxseed powder, cocoa butter fat, grass fed ghee), Cocoa Powder, Digestion Resistant Maltodextrin, Digestion Resistant Dextrin, Sodium Caseinate, Natural Flavours, Apple Cider Vinegar Powder, Sunflower Lecithin, Inulin, Redmond Real Salt, Xanthan Gum, Digestive Enzyme Blend (alpha and beta amylase, protease I, protease II, lipase, lactase hemicellulase, cellulase, invertase, diastase), Monk Fruit Extract, Stevia Leaf Extract, Lactobacillus acidophilus.
Lately, most brands seem to be moving towards prioritising plant-based offerings, both for the various health benefits and to cater for a wider customer base, yet HLTH Code have gone entirely against this and created the meatiest shake possible. Between the whey protein, collagen and ghee, this shake appears to consist almost entirely of cow. We'll have a closer look at some of the ingredients in HLTH Code Complete Meal.
Carbohydrates: HLTH Code contains only 13g of carbs per serving, 9g of which being fibre and 2g of sugar. This is far lower than you would usually expect from a meal replacement, however this makes it ideal for a keto diet. To stay in ketosis, less than 10% of your energy should come from carbs(3). HLTH Code provides 4g net carbs as the rest is in the form of fibres such as inulin. The high fibre is a plus, as this aids digestion and supports good health(4). HLTH Code also contains no sugar alcohols which is another positive for the keto diet as some are suspected to break a ketogenic state.
Protein: HLTH Code contains 27g of protein per serving which comes from a combination of whey protein concentrate, grass fed collagen, and egg whites. While this is a similar value to most typical meal replacement shakes, it's high compared to other ketogenic options. Keto shakes tend to provide a lower protein content, in part due to a misconception that it increases blood glucose levels(5) and therefore breaks ketosis, but the evidence to support this is weak at best.
Fats: HLTH Code contains a very high volume of fat, one serving has 27g of total fats, of which 17g is saturated. This means that in just one meal, you're getting 87% of the recommended daily limit of saturated fats. The World Health Organisation (WHO) state that less than 10% of your total energy intake should be from saturated fats and strongly recommend intaking monounsaturated or polyunsaturated fats instead(6). However, people following a keto diet often use medium chain triglycerides (MCTs) as a quick energy source, and a lot of the fats within HLTH Code come from medium chain triglycerides powder and coconut oil, which also contains MCTs.
HLTH Code Complete Meal contains a few other ingredients that are worth mentioning. First up, the inclusion of apple cider vinegar which has plenty of purported health benefits such as supporting weight loss(7) and improving insulin sensitivity and blood sugar control. The next noteworthy feature is the digestive enzyme blend. This is designed to help food digestion in several ways, for example, lipase to break down fats, alpha and beta amylase to break down plant matter, and cellulase to digest fibres(8). Finally, it avoids any artificial sweeteners by instead including monk fruit extract and stevia leaf extract.
HLTH Code Taste Test
For our HLTH Code review we tested both flavours, Chocolate Macadamia and Creamy Vanilla. The usage directions suggest mixing with water so we tried that first, then also with cows milk and soya milk for a complete test. Meal replacement shakes are usually much more palatable when mixed with milk, but using water is the best way to keep the calories low and easier to track.
We started with Chocolate Macadamia and were not impressed. With water, it was far more bitter than we'd expected. The chocolate element was harsh and unpleasant, and we couldn't detect the macadamia at all. Using milk brought a little more sweetness out, but again neither of us rated it.
Next up was Creamy Vanilla and thankfully that was better. On the contrary to Chocolate Macadamia, we thought this one was too sweet to want to consume regularly, but it was definitely the tastier option. One of us said the aftertaste was strange yet mild enough to be masked by mixing with milk.
Although we didn't award many points for taste, we agreed HLTH Code Complete Meal was easier to drink than most keto shakes. It wasn't oily or gritty and if you added milk, it had a thin creamy milkshake texture. Mixing with water left the texture a little chalkier, but it still wasn't bad.
We also shared the same opinion on how filling this shake was. Whilst it didn't stand up well next to many of the thicker alternatives which can easily see you through from breakfast to lunch, HLTH Code held its own against similar thin shakes and kept our hunger cravings at bay for a couple of hours.
We do feel that HLTH Code Complete Meal is one of the better keto friendly meal replacements available. However, if you're not limited to following a keto diet then this isn't one we can recommend. There are much tastier choices out there, with excellent ingredient lists and more balanced nutrition, especially at this premium price point.
How to Use HLTH Code
To prepare a HLTH Code shake, simply mix 2 scoops with water. You can also mix it with milk, plant-based milk or into a smoothie recipe, just be aware that this will change the nutritional values and increase the calories. One bag of HLTH Code provides 15 servings, which should cover one to two weeks if used as suggested. It's best to mix the shake in a shaker bottle or use a blender if adding extra ingredients. Shaker/blender bottles are available to purchase from most large online or physical retailers such as Amazon or supermarkets, and branded versions are usually sold by the shake manufacturers. Most brands provide one for free with your first order, but HLTH Code do not. They offer a plastic version for $10 or a metal option for $25.
The instructions say to drink daily; replacing 1 or 2 meals per day is typical for people looking to lose weight(9) or just generally improve their diet and therefore health. Whilst the nutrient and protein values are usually great in meal replacements, it's not normally advised to consume more than 1-2 per day. The content of elements like protein, fibre and sugar tends to be quite high and this will cause chaos for your digestive system, as well as it being difficult and unpleasant to stick to such an unvaried diet. Meal replacements are also commonly used by people looking to gain weight and muscle mass as a quick and easy way to boost their protein and calorie intake, often as a pre or post workout snack.
In our test we found that it mixed well and although it was a little chalky, it was very smooth without needing a blender to remove lumps. It also managed to avoid the oily texture found in most keto shakes. Thick and grainy shakes do tend to be more popular, but it's down to personal preference if you prefer thick or thin. This was much thinner than most other shakes so felt more like a milkshake than a meal replacement. Both of our testers felt it only appeased our hunger pangs for a couple of hours, compared to similar products generally lasting for 3-4, this was potentially in part due to how thin it was. The bags seem to be good quality, particularly the zipper, and it was easy to clean the shaker after use.
HLTH Code Side Effects
Is HLTH Code Complete Meal safe? HLTH Code state that this product was created based on scientific research and is designed to optimise your health. The brand was founded in 2020, and their products are made in the USA in a Food and Drug Administration (FDA) registered and current Good Manufacturing Practice (cGMP) certified facility. They are contactable via their email [email protected] if you have any questions or issues.
This HLTH Code meal replacement shake consists of natural ingredients and is keto-friendly, gluten-free, and soy-free. As with any food product, it is important to check the ingredients list before consuming for any personal allergens or intolerances and consult your doctor if you have any concerns about it clashing with medication or other supplements, and if you are pregnant or breastfeeding.
HLTH Code is not suitable for vegans due to the inclusion of milk and egg, which are both also common allergens, and animal-based collagen, nor is it suitable for vegetarians either because of the collagen. The product website is quite misleading on this as it clearly states HLTH Code isn't vegan yet makes no reference to vegetarians. If you are not already aware that the collagen is sourced from animal parts like bones, hooves, and skin(10), then this can easily be overlooked. They also don't clarify anywhere if the collagen source is halal or kosher, so it most likely isn't either.
HLTH Code Pricing
HLTH Code Complete Meal is available to buy directly through their website www.gethlth.com or on Amazon. One pouch of either flavour costs $59.95, so with 15 servings in each, this equals $4 per meal. This certainly doesn't work out as the most expensive meal replacement option, but it's a far cry from the cheapest, and we feel there are much better value for your money options available with preferable ingredients and nutritional content, or superior flavour and accompanying product ranges. HLTH Code don't offer any form of bulk buy deals with discounts or free products, unlike most competitors, although they do at least offer a monthly subscription service that shaves off $10 per bag, dropping the per serving price to $3.33.
Shipping within the US is free if you order at least 2 pouches or for the price of $10 if you purchase only a single bag. International shipping is also available to most countries, but this comes with a hefty fee regardless of order size, e.g. a $20 flat fee for Canada or $35 for Europe. HLTH Code offer a 60-day money back guarantee returns policy if you are unsatisfied with your purchase. This is generous compared to the more common 30-day guarantee; however, they do stipulate that only 1 refund per customer is allowed, products other than the full-sized meal replacement pouches are not eligible, and only 1 bag of each flavour (totalling 2) will be refunded irrespective of quantity bought.
HLTH Code Review Score: 2.8/5
Nutritional value: 3/5
Ingredients: 3/5
Taste test: 2/5
Hunger suppression: 3.5/5
Value for price: 2.5/5
HLTH Code Review Conclusion
While HLTH Code Complete Meal isn't a bad choice, we can't see much reason to recommend it over the more well-rounded shakes featured on our Best Meal Replacement Shakes list, such as Rootana, Instant Knockout Complete and Huel, or the convenient ready-made options like Soylent and Premier Protein. We would only really recommend HLTH Code to people following a keto diet who are able to consume eggs and dairy, and even then, it still isn't our preferred keto option.
We were fans of the high micronutrient and protein values, digestive enzymes and probiotic addition, and keto suitability. On the other hand, we really didn't like the macronutrient ratio and an ingredients list that excludes most common diets. We also rated the small flavour selection poorly in our taste test and found the cost to be unjustifiably high at $4 per shake when there is a huge variety of similar but cheaper products available, or better options in the same premium price range.
References
1.     https://www.healthline.com/nutrition/calcium-magnesium-zinc
2.     https://pubmed.ncbi.nlm.nih.gov/12566138/
3.     https://www.ncbi.nlm.nih.gov/books/NBK537084/
4.     https://pubmed.ncbi.nlm.nih.gov/19335713/
5.     https://pubmed.ncbi.nlm.nih.gov/9416027/
6.     https://www.who.int/news-room/fact-sheets/detail/healthy-diet
7.     https://pubmed.ncbi.nlm.nih.gov/29091513/
8.     https://probioticscenter.org/digestive-enzymes/
9.     https://pubmed.ncbi.nlm.nih.gov/15467776/