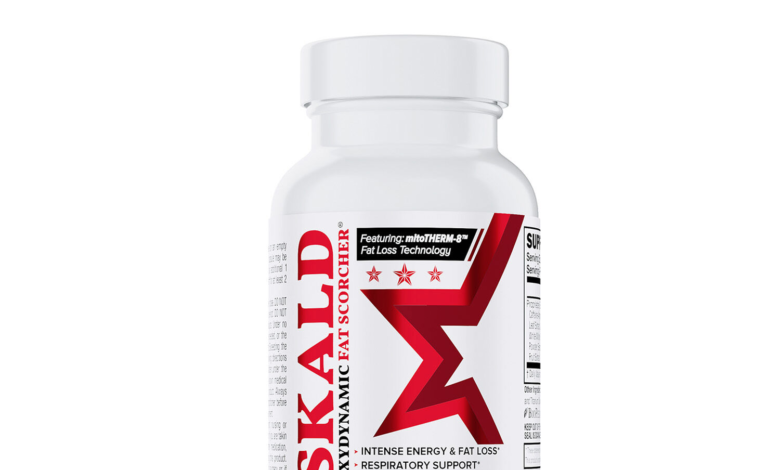 This Skald review will take a look at Skald oxydynamic fat scorcher, but if you want to see what we believe are the top five fat burners available right now then check out this article
Skald oxydynamic fat scorcher is a fat-burning supplement that generated a lot of online buzz. But is that hype justified? Or is Skald an overrated fat burner? In this  Skald review, we will be taking a look at the ingredients list of Skald, analysing the claims it makes and helping you to decide whether Skald is the right fat-burning supplement for you.
Skald at a Glance
The full name for this supplement is Skald oxydynamic fat scorcher, which is a nonsensical name for a supplement. Oxydynamic is a completely made-up and non-scientific term. This farcical name suits the fat-burning supplement perfectly.
Skald oxydynamic fat scorcher uses a blend of caffeine, green tea extract, and a few other ingredients to boost energy expenditure and help you lose weight. Previous iterations had bitter orange fruit extract, but this is now a banned ingredient.
Pros
Low price
No side-effects
Possible cognitive benefits
Cons
Proprietary blend
Underdosed, ineffective ingredients
Will not help you to burn fat
Skald Background
Skald is a weight loss supplement that uses a proprietary blend to disguise the dosages of its ingredients. It is sold by American supplement company Beldt Labs, which has Stephan Bonnar (UFC fighter) as their spokesman.
The company is based in Sherman Oaks, California. On Ventura Boulevard itself! Despite its incredible location, the company has a mixed reputation. Anyone who has spent any time reading supplement reviews will know that the term "Proprietary blend" is frowned upon.
Particularly for a weight loss supplement, as the dosage for ingredients is crucial information, and the only reason to hide them is if the ingredients are poorly dosed.
Skald Ingredients
While we know what ingredients Skald weight loss supplements contain, we have no idea what the dosage of each ingredient is. This is because Skald has hidden this information within a proprietary blend.
The vast majority of supplement companies no longer hide behind proprietary blends, and the practice is frowned upon. In the next section, we will discuss each ingredient, but keep in mind that they are almost certainly under-dosed and therefore useless.
Ingredients in Detail
There are eight ingredients contained within the Skald proprietary blend. The only ingredient that we know the dosage for is caffeine anhydrous. The entire blend is 356 mg, and the caffeine is 110 mg. So there is 246 mg spread out between the other seven ingredients.
Caffeine anhydrous (110 mg)
Caffeine is very common in weight loss pills and fat burners as it is clinically proven to help increase fat oxidation as well as provide physical and cognitive benefits. The amount of caffeine anhydrous required for fat loss is around 200 mg [1]. If you are looking for performance benefits, then 300-500 mg of caffeine is required.
110 mg is nowhere near enough caffeine anhydrous to help with fat loss. Skald may argue that the caffeine found in green tea leaf extract may help them reach their target, but this is impossible to determine without knowing the dosage of green tea extract in Skald.
The amount of caffeine in Skald may be too low for fat-burning benefits, but it can still have some health benefits. Low doses of caffeine have been found to improve cognition. A 1999 study found that doses as low as 150 mg could improve cognitive performance [2].
Make no mistake, the inclusion of just 110 mg of caffeine anhydrous has no scientific basis, and it is almost certainly a cost-cutting measure.
N-Acetyl-Tyrosine
L-Tyrosine is an amino acid that is crucial in the formation of dopamine and norepinephrine [3]. When we become stressed, our levels of dopamine and norepinephrine drop, this has a knock-on effect on our cognition. L-Tyrosine supplementation can help to address this deficiency and help restore cognition.
There is no evidence that L-Tyrosine can affect weight loss, though Skald claims that it can prevent "stress-eating". This has not been scientifically proven. In any case, the standard dosage requirement of L-Tyrosine is between 500 mg and 2,000 mg.
As the entire Skald supplement contains only 356 mg (with 110 mg of caffeine included), there is no way that there is an effective dose of L-Tyrosine in this supplement.
Green tea leaf extract
The thing you need to understand about green tea leaf extract is that it only works when properly dosed. The active ingredient in green tea is Epigallocatechin gallate (EGCG). Green tea extract should be around 40-50% EGCG, and you want 400-500 mg of EGCG [4].
That means that you need around 1,000 mg (1 gram) of good quality green tea extract to see fat-burning effects. As the total serving size of Skald is only 356 mg, and 110 mg of that comes from caffeine, we can confidently conclude that there is very little EGCG in Skald, and therefore it is ineffective.
This is a shame because green tea extract has many health benefits. It can reduce body fat [5], reduce inflammation and increase insulin sensitivity by raising adiponectin levels [6], and it may also be an effective cognitive enhancer [7].
Juniper berry extract
Juniper berry extract is an uncommon ingredient in fat-burning supplements, as it does not appear to aid fat-burning, nor does it work as an appetite suppressant. That doesn't mean it is without its uses though.
There is some evidence that juniper berry extract may help to improve heart health, however, these studies have so far only been performed on rats [8]. Also, although there is no standardised dosage as of right now, all studies on humans have used 1-6 grams of juniper berries [9].
It could be that juniper berry extract has hundreds of unknown weight loss and fat-burning benefits, but there is currently no evidence to support this. No other weight loss supplements are using it as far as we can tell, and nowhere on the Skald website does it explain why they have included it.
White willow bark extract
White willow bark extract is a legacy ingredient from previous formulas. What we mean by this is that the original Skald contained bitter orange fruit extract (a now-banned ingredient that was used to recreate the effects of ephedrine).
Ephedrine, caffeine, and aspirin (ECA) was a well-known fat-burning supplement stack. It was highly effective [10], yet also very dangerous, which is why it is now banned.
Skald was trying to replicate the results by using bitter orange extract, caffeine, and white willow bark extract (instead of aspirin).
However, without the bitter orange extract, and with such low caffeine, there is zero need for white willow bark extract. It will not contribute to fat burning.
Putting white willow bark into your fat-burning pill without ephedrine or caffeine is a little like putting 22-inch rims on a car that doesn't have a working engine.
Verbascum thapsus leaf powder
Verbascum thapsus leaf powder comes from the mullein plant, which is used in Austrian medicine as a herbal remedy for certain ailments. According to Skald, this has been added in to increase oxygen uptake, but there is no real evidence for this.
This really is a completely useless addition to Skald's ingredients list.
Elecampane root powder
This is another herbal remedy with no evidence supporting its use. Again, Skald claims that it can improve oxygen uptake allowing you to train harder. But again, this is not backed by science, and absolutely nobody is successfully using elecampane root powder to improve their cardiovascular fitness.
Bioperine black pepper fruit extract
Bioperine (black pepper fruit extract) is added to dietary supplements to increase absorption, this is a great supplement ingredient but it needs the other ingredients to be highly effective. Otherwise, it isn't going to contribute much to the fat-burning process.
Does Skald Work?
There are many fat burners out there that can help provide that extra 1-2% when it comes to burning fat. But Skald is not one of those fat burners. It contains no properly-dosed ingredients and is packed full of useless ingredients.
There aren't even any appetite suppressants in Skald, which feels like a big miss. The previous formula (that contained bitter orange fruit extract) was a little better, but the new Skald won't help you lose fat, nor can it help increase fat burning.
You will not lose weight while taking Skald. Not with just 110 mg of caffeine, a tiny amount of green tea, and useless ingredients such as white willow bark.
Skald Side Effects: Is Skald Safe?
For all its many faults, Skald oxydynamic fat scorcher is completely safe. There are no ingredients that are associated with side effects, other than caffeine. But there is not enough caffeine to affect any form of response, whether positive or negative.
Skald Review: A Good Weight Loss Supplement?
The goal for anyone taking Skald is to prevent weight gain, burn fat, and ultimately lead to substantial weight loss. This is usually achieved by increasing energy expenditure thanks to ingredients like caffeine and green tea extract.
Many other fat burners will focus on appetite suppression, hoping to reduce calorie intake or to reduce fat absorption.
Skald does none of these things. It does not reduce fat absorption, it does not reduce calorie intake, it does not cause appetite suppression, and it doesn't increase energy expenditure.
The only thing that Skald can make lighter is your wallet!
Frequently Asked Questions
Is Skald an effective fat-burning supplement?
No. It does not contain properly dosed ingredients. It cannot help you lose weight, and is outperformed by most weight loss pills.
Is Skald worth it?
Though it is very low-priced, Skald has no effective ingredients. So, you are basically spending money for no benefit. It won't even improve your mental and physical performance, and won't contribute to the weight loss process.
How to take Skald?
Take one capsule on an empty stomach around 30 minutes before breakfast. You may be able to double this dosage after getting used to it. But remember, this doubles the cost per serving.
References
[1]
https://examine.com/supplements/caffeine/
[2]
https://pubmed.ncbi.nlm.nih.gov/10496113/
[3]
https://examine.com/supplements/l-tyrosine/
[4]
https://examine.com/supplements/green-tea-catechins/
[5]
https://pubmed.ncbi.nlm.nih.gov/21366839/
[6]
https://pubmed.ncbi.nlm.nih.gov/18468736/
[7]
https://pubmed.ncbi.nlm.nih.gov/21303262/
[8]
https://pubmed.ncbi.nlm.nih.gov/17964099/
[9] [10]
https://pubmed.ncbi.nlm.nih.gov/8384187/