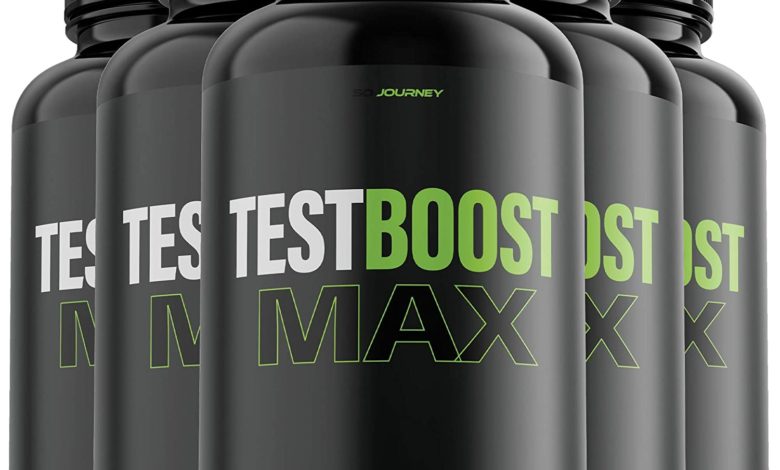 Testosterone is vital for the healthy functioning of the body, especially in men. Not only does it help you burn fat, grow and repair muscle, and increase your sex drive, it also improves your cognitive capacities and emotional well-being.
Unfortunately, the concentrations of this essential sex hormone start to decline in men from around 30 years of age. This is largely why so many men find it increasingly difficult to shed weight, build muscle and maintain a healthy libido as they get older.
Declining testosterone levels aren't an inevitability though. Lifestyle and environmental factors play a crucial role in stimulating testosterone production. And one of the most effective ways that you can naturally stimulate testosterone production in your body is to use a natural testosterone booster alongside a healthy diet and regular exercise regime.
Test Boost Max is one such testosterone-boosting product, but just how effective is it?
In this review, we'll take a deep dive into Test Boost Max's purported benefits so you can be sure you're making an informed choice about the best testosterone booster for you.
Test Boost Max Review: At A Glance
The findings of this TestBoost max review:
Pros:
Strong dose of stress-reducing ashwagandha helps boost t levels
Several libido-boosting ingredients
Lifetime money-back guarantee
Cons:
No UK delivery from the manufacturer
Expensive, but frequent discounts on offer
Inconclusive research to back up many of the manufacturer's claims
What Is Test Boost Max?
Test Boost Max is a nutritional supplement designed to naturally boost testosterone levels. It's manufactured by Sculpt Nation, an American sports nutrition brand with a wide variety of supplement products.
With Test Boost Max, Sculpt Nation guarantees you will burn more body fat and do it faster, recover more quickly from workouts, gain muscle mass, and raise testosterone levels and libido.
Test Boost Max claims are propped up by research-backed ingredients at effective doses. Let's take a look at what's on the product label to see if they stand up to scrutiny.
What Are Test Boost Max Ingredients?
Tribulus Terrestris 500mg
A relatively rare ingredient in testosterone boosters, Tribulus Terrestris is a small, leafy plant that's included mainly for its muscle-building properties. [1] However, contrary research suggests Tribulus Terrestris's effect on physical performance is negligible without additional components. [2] It's also worth noting that the Australian Institute of Sport recommends against using Tribulus Terrestris.
The same research concludes its effect on testosterone levels is also unclear. While animal studies indicate an increase in testosterone levels due to Tribulus Terrestris, these results have not yet been replicated in human studies.
American Panax Ginseng 20 mg
Ginseng has been used by humans, especially in traditional Chinese medicine, to improve sexual function for thousands of years. It does this, however, primarily thanks to its antioxidant properties that work to restore blood vessel health and not, it appears, by boosting testosterone levels. While research into Asian ginseng extract indicates it may increase free testosterone levels, a study into American ginseng found no such relationship. [3]
Additionally, the dose of ginseng in Test Boost Max is incredibly low at just 20 mg, which suggests any beneficial effects will be minimal. TestoFuel, for comparison, contains five times more per serving.
Ashwagandha Root 4:1 Extract 600 mg
Ashwagandha is renowned for reducing levels of the stress hormone cortisol. This hormone is believed to inhibit testosterone production, so lower cortisol levels may indeed help boost testosterone levels. One 2019 study backs this up in concluding that ashwagandha intake over two months was associated with nearly a 15 percent increase in testosterone levels compared to the placebo group. [4]
Cordyceps Mushroom 20 mg
Cordyceps is a type of fungi found on insect larvae which may help boost libido, although research into this claim is limited. There has been research into its effect on testosterone in animals, but a 2011 study on humans at a much higher dose found no increase in t levels among those taking cordyceps. [5]
Hawthorn Berry Extract 40 mg
Hawthorn berry is a traditional remedy for blood pressure and digestive problems. Due to its positive impact on blood flow, it may help alleviate erectile dysfunction as well.
The only known research into hawthorn berry's effect on testosterone production was conducted on rats and it revealed a marginal increase in testosterone levels but only at doses that far surpass what Test Boost Max contains. [6]
Horny Goat Weed 160 mg
Otherwise known as epimedium, horny goat weed, as its name suggests, helps with sexual performance by inhibiting the production of PDE5, an enzyme that blocks the flow of blood to the penis.
It doesn't, however, help boost testosterone production. In fact, one study found that at doses above 1 mg/kg, horny goat weed has a suppressive effect on serum testosterone concentration. [7] Given the 160 mg dose in Test Boost Max, this could be problematic.
Longjack Root 20 mg
Longjack root, or Tongkat Ali, is a strong antioxidant that's commonly used to treat erectile dysfunction. One study found this Asian root helped testosterone deficient men increase their t levels, but only at a 200 mg dose, compared to Test Boost Max's 20 mg serving. [8]
Test Boost Max Review: An Overview
How do I use Test Boost Max?
Test Boost Max comes in capsules. Take three of these per day and this amounts to one serving.
The manufacturers don't provide any further instructions on when might be the best time of the day to take the capsules, whether they should be taken with food, or whether they can be taken all together at once.
Does Test Boost Max work?
We have strong doubts that Test Boost Max is as effective at boosting testosterone levels as Sculpt Nation might like us to believe.
The main issues with Test Boost Max are its use of ingredients that lack comprehensive and credible scientific evidence to back up their t-boosting claims, and the tiny doses it provides for the more proven ingredients. Aside from the generous helping of ashwagandha, there isn't a great deal to get excited about.
American Panax ginseng is a good addition, but the dose is far too small. The same can be said of other, more controversial choices, like cordyceps mushroom, hawthorn berry extract, and longjack root. All three of these lack convincing research attesting to their t-boosting properties, and the only studies cited in their favour tend to concern much larger doses.
With horny goat weed, Test Boost Max has the opposite problem. Research suggests a high dose of this plant could be counterproductive and lower your t levels.
Tribulus Terrestris is another unconvincing selection, which is concerning given its concentration in Test Boost Max is second only to ashwagandha.
As far as we can tell, Test Boost Max's ingredients list is very likely to help increase your libido and energy levels, but as far as testosterone and building muscle mass are concerned, the jury's still out.
What do customers think of Test Boost Max?
Customer reviews of Test Boost Max reflect much of our take, although a notable number of people complain that it didn't do anything to improve their sexual desire.
On Amazon, there are a fair amount of positive Test Boost Max reviews but also quite a few that make clear their favourable opinions were influenced by the promise of free samples, so these should be taken with a grain or two of salt.
Test Boost Max reviews on reputed health blogs are also a bit of a mixed bag, with some touting better alternatives at the same price, while others are pretty damning about the lack of credible research into the ingredients.
Is Test Boost Max safe?
Test Boost Max is manufactured at FDA-approved facilities in the USA, so you don't need to worry about any nasty surprises finding their way into your capsules.
All the ingredients are considered safe for human consumption, although some people may have an allergic reaction to hawthorn berries while several customers have complained about gastrointestinal problems after taking the product.
As with all health supplements, if you have an underlying medical condition it's advisable to first consult with your doctor before taking Test Boost Max.
Where can I buy Test Boost Max? Do they deliver?
Test Boost Max is available to buy at Sculpt Nation's online shop, as well as online vendors like Amazon and eBay.
Sculpt Nation only delivers to customers in the USA and Canada though.
How much does Test Boost Max cost?
At the time of writing, Test Boost Max has a 38 percent discount if you buy through the manufacturer's website. Normally, it costs $67 a bottle and this lasts for 30 days. It's, therefore, a little on the expensive side.
Sculpt Nation does, however, offer a lifetime money-back guarantee if you are not satisfied.
Test Boost Max Review: Conclusion
Test Boost Max is a reasonable product but it's certainly not one of the best testosterone boosters.
Most of the t boosting ingredients in Test Boost Max are only supported by animal studies or research conducted at much stronger doses than what the product contains. Ironically, one of the only ingredients it has at a potent dose – horny goat weed – may have its effect profile flipped with regards to testosterone concentration at the levels found in Test Boost Max.
Some of the ingredients in Test Boost Max, like cordyceps mushrooms and Panax ginseng, may offer certain benefits unrelated to testosterone but, again, the doses are too low. One final quibble concerns the inexplicable absence of essential nutrients like zinc and vitamins B6, B12, and D. These provide a multitude of health benefits, including elevated testosterone levels, and western males are frequently deficient in them, so why not include them?
Overall, Test Boost Max appears to be more beneficial as an aid to combat erectile dysfunction, although even then many customer reviews call this into question. But if you're in the market primarily for a potent testosterone booster, Test Boost Max isn't the product for you.
References
Rogerson, S., Riches, C. J., Jennings, C., Weatherby, R. P., Meir, R. A., & Marshall-Gradisnik, S. M. (2007). The effect of five weeks of Tribulus Terrestris supplementation on muscle strength and body composition during preseason training in elite rugby league players. Journal of strength and conditioning research, 21(2), 348–353. https://doi.org/10.1519/R-18395.1
Pokrywka, A., Obmiński, Z., Malczewska-Lenczowska, J., Fijałek, Z., Turek-Lepa, E., & Grucza, R. (2014). Insights into Supplements with Tribulus Terrestris used by Athletes. Journal of human kinetics, 41, 99–105. https://doi.org/10.2478/hukin-2014-0037
Yoshimura, H., Kimura, N., & Sugiura, K. (1998). Preventive effects of various ginseng saponins on the development of copulatory disorder induced by prolonged individual housing in male mice. Methods and findings in experimental and clinical pharmacology, 20(1), 59–64. https://doi.org/10.1358/mf.1998.20.1.485633
Lopresti, A. L., Drummond, P. D., & Smith, S. J. (2019). A Randomized, Double-Blind, Placebo-Controlled, Crossover Study Examining the Hormonal and Vitality Effects of Ashwagandha ( Withania somnifera) in Aging, Overweight Males. American journal of men's health, 13(2), 1557988319835985. https://doi.org/10.1177/1557988319835985
Hsu, C. C., Lin, Y. A., Su, B., Li, J. H., Huang, H. Y., & Hsu, M. C. (2011). No effect of cordyceps sinensis supplementation on testosterone level and muscle strength in healthy young adults for resistance training. Biology of Sport, 28(2), 107-110. https://doi.org/10.5604/942739
Dallak M. (2018). Crataegus aronia enhances sperm parameters and preserves testicular architecture in both control and non-alcoholic fatty liver disease-induced rats. Pharmaceutical biology, 56(1), 535–547. https://doi.org/10.1080/13880209.2018.1523934
Shindel, A. W., Xin, Z. C., Lin, G., Fandel, T. M., Huang, Y. C., Banie, L., Breyer, B. N., Garcia, M. M., Lin, C. S., & Lue, T. F. (2010). Erectogenic and neurotrophic effects of icariin, a purified extract of horny goat weed (Epimedium spp.) in vitro and in vivo. The journal of sexual medicine, 7(4 Pt 1), 1518–1528. https://doi.org/10.1111/j.1743-6109.2009.01699.x
Tambi, M. I., Imran, M. K., & Henkel, R. R. (2012). Standardised water-soluble extract of Eurycoma longifolia, Tongkat ali, as testosterone booster for managing men with late-onset hypogonadism?. Andrologia, 44 Suppl 1, 226–230. https://doi.org/10.1111/j.1439-0272.2011.01168.x