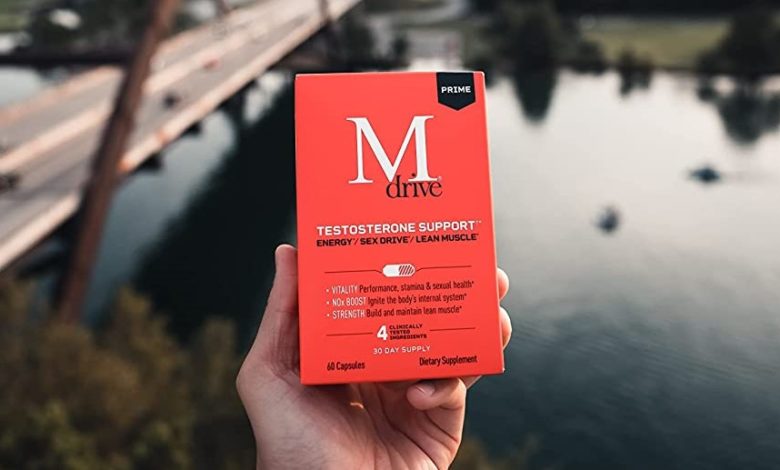 Pros:
Affordable and with a 60-day money-back guarantee
Reputable company
Likely to boost testosterone and energy levels of inactive men
Cons:
DHEA dose is too low
S7 proprietary blend is problematic and unproven
Unlikely to help build lean muscle mass
Not particularly well-suited to more experienced trainers
What Is Mdrive Prime?
Mdrive Prime is a natural testosterone booster supplement manufactured by Dream Brands, A US-based company that produces a range of health products.
Mdrive Prime is the company's centrepiece testosterone booster supplement, but it isn't aimed at helping bodybuilders and gym goers to take their workouts to the next level, of which there are countless male enhancement supplements. Rather Mdrive Prime is formulated for guys who are beginning to take their health seriously, and in doing so want to boost their fitness, muscle mass, and testosterone levels. As Dream Brands CEO and Founder Gary Kehoe put it, Mdrive Prime will help you "refind your prime."
In particular, aside from boosting testosterone levels, Mdrive Prime claims to lower stress, build lean muscle mass, and increase energy, stamina, and drive.
How does it do this? Let's start this Mdrive Prime review by taking a look at the ingredients to find out.
Mdrive isn't a bad supplement, but it didn't make it onto our best testosterone boosters list, and if you can afford it we'd recommend Prime Male over Mdrive.
Mdrive Prime Ingredients
Mdrive Prime is comprised of ten natural ingredients which the manufacturer argues are backed up by science to help you to achieve your health, fitness, and testosterone goals.
The formula comes in capsules and is GMO and gluten-free. Dream Brands recommends taking two Mdrive Prime capsules in the morning with breakfast.
Ashwagandha KSM-66 Extract – 600mg
This patented full-spectrum extract of ashwagandha is included to reduce stress, increase focus and support testosterone production.
Undoubtedly, this root extract that's been used for centuries for these properties has great potential as revealed in several clinical studies. One 2017 study supported the claim ashwagandha enhances cognitive functions [1], while another reported it may reduce stress by inhibiting cortisol production. [2]
Its testosterone-boosting properties for middle-aged men, meanwhile, are supported by a 2019 study. [3]
However, it's worth bearing in mind that a lot of the clinical studies into ashwagandha at this point are tentative, and much more needs to be conducted with larger sample sizes to understand its effects fully.
Tongkat Ali Extract – 200mg
Tongkat ali is another traditional medicinal plant but it is included in Mdrive Prime to enhance sexual health, boost energy levels, and improve athletic performance.
The science behind its libido-boosting and erectile dysfunction-treating properties is mixed though, with one systematic review of tongkat ali clinical trials concluding more efficacy trials are needed to support such claims. [4]
As for its energy and sports performance, one study indicates tongkat ali supplementation may help with modest gains in resistance training. [5]
S7 Nitric Oxide Booster – 50mg
S7 is a proprietary blend of seven plant-based ingredients that has, allegedly, been proven to increase nitric oxide (NO) levels by 230 percent.
Elevated NO levels help increase blood flow in the body which, in turn, means more oxygen, nutrients, and fuel for your cells leading to enhanced athletic and cognitive performance.
However, the study in question involved only eight participants and has not yet been peer-reviewed. We'd take these claims with a pinch of salt, especially since it contains many ingredients commonly found in testosterone boosters, such as green tea, green coffee, and turmeric, but at a lower overall dose and with the precise amounts of each hidden behind a proprietary formula.
DHEA – 5mg
Dehydroepiandrosterone (DHEA) is included to support testosterone production, as reported in a 2013 study [6]. However, this involved a dose more than ten times that found in Mdrive Prime, so we're not sure it's especially relevant.
Vitamin D – 10mcg
Vitamin D plays a crucial role in many important bodily processes, but its effect on testosterone levels at this dose will not be significant.
Niacin – 50mg
Niacin, or vitamin B2, is vital to your nervous system and helps keep your skin healthy. One study found it increased testosterone levels in rats, but only at very strong doses. [7]
Vitamin B12 and B6 – 120mcg and 10mg
Vitamin B12 is important for metabolic functions and red blood cell production, while B6 helps keep the immune and nervous systems functioning. Neither boosts testosterone levels directly, but a deficiency in one or the other can cause testosterone levels to drop.
Chromium – 200mcg
Chromium helps with the breakdown and absorption of fats, carbohydrates, and proteins. Mdrive Prime's 200mg dose is the upper limit of what you should consume of this per day.
Does Mdrive Prime Work?
Mdrive Prime's key selling point is its use of ashwagandha KSM-66. Research to date into this root extract is exciting for its apparent health benefits, including for testosterone levels. And at 600mg, the dose Mdrive Prime offers is decent One that .
Other than this though, we're not convinced Mdrive Prime has a great deal to offer. KSM-66 is available to buy as a standalone supplement, at a much cheaper price, which is worth considering given the other ingredients and their doses.
To be fair, tongkat ali shows some promise for its beneficial effects on sexual health, but S7 nitric oxide booster is entirely unproven while Mdrive Prime's DHEA dose is far too low.
All that's left is a reasonable helping of vitamins and chromium, but nothing you couldn't find from a run-of-the-mill multivitamin shop.
That said, it is more than likely that Mdrive Prime will help an inactive middle-aged man find more energy and feel less stressed, but we're less sure it will help with building lean muscle mass.
So, as Dream Brands says itself, this product may work for those starting from a low workout baseline, but is unlikely to do much for those further down the fitness line.
What About Mdrive Prime Reviews from Customers and Health Blogs?
Mdrive Prime reviews on Amazon are pretty solid with many customer reviews reporting an increase in energy levels. However, there are many gripes as well, claiming the product simply didn't do anything for them.
Reputed health blog reviewers are a little more critical, noting the low dosages of some ingredients as well as the proprietary blends but commending the affordable price tag of $30 for a thirty-day supply.
Is Mdrive Prime Safe?
Mdrive Prime is manufactured in GMP-certified facilities in the USA by a reputable company, so there are no concerns over its production standards.
Nor does it contain any ingredients commonly associated with side effects, such as caffeine. It is not, however, recommended for under 18s nor pregnant or lactating women, and anyone with an underlying medical condition should first consult with a healthcare professional before taking it.
Mdrive Prime Review: Our Take
Our take is that Mdrive Prime is a decent budget testosterone booster for those looking to boost their male sexual function who are just getting into the swing of things when it comes to working out a diet and exercise regimen that works for them.
The doses are a little low for DHEA and tongkat ali, while the inclusion of S7 is dubious at best. However, you can't go wrong with KSM-66 as a natural testosterone booster, on top of its stress management and cognitive-enhancing properties.
Our main thought with Mdrive Prime for males starting their fitness journey though is how does Mdrive Prime compare with other testosterone boosters? Why not get going with a male enhancement supplement that's formulated to grow with you into your new healthy lifestyle? One that is proven to burn body fat and build lean muscle mass?
At a certain point, perhaps quite soon, the benefits of using Mdrive Prime will start to wane. There's no reason not to use a natural testosterone booster, such as TestoFuel, that is perfectly well-suited for beginners but which provides value to more experienced trainers as well. Check out our best list of testosterone boosters to see what else is out there.
References