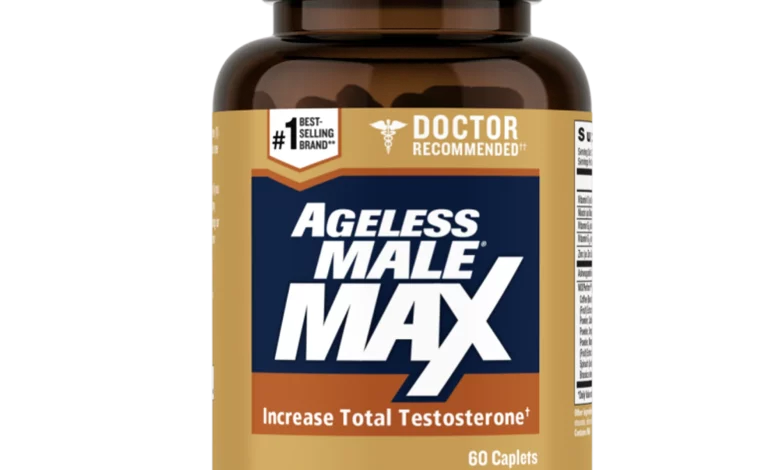 Ageless Male Max Testosterone Booster Review: Hype or the Real Deal?
What is Ageless Male Max?
Ageless Male Max is a health and fitness supplement designed for men to naturally boost total testosterone levels.
It is one of several nutritional supplement products manufactured by New Vitality, a health and wellness company based in New York. Other than this, not a great deal is known about the brand despite the company's dubious claim that Ageless Male Max is the best-selling testosterone booster in the US. This statement is based on a 2021 analysis by Nielsen, a market research firm, but we couldn't find anything in that report to back it up. Not a good start.
In any case, New Vitality believes what sets its Ageless Male Max formula apart from its competitors is its ability to boost total and not just free testosterone levels.
What's the difference between the two? Free testosterone is unbounded testosterone. This means it can act as a receptor for any cell in your body. As such, it can help execute various beneficial functions, like regulating metabolism and building muscle. Only around 1 to 2 percent of the testosterone in your body is free testosterone.
Total testosterone includes bound and unbound testosterone. The former is bound to a protein, most commonly the sex hormone-binding globulin (SHBG), which means it is not available to assist with cellular functions.
So, while boosted total testosterone levels are a good thing, it is elevated free testosterone levels that will provide the most positive effects. For this reason, we're not sure why New Vitality wants to emphasise its total t boosting credentials, while falsely claiming that other testosterone boosters only boost free testosterone levels. Indeed, if free t levels increase, then so do total testosterone levels!
Putting such quibbles aside, Ageless Male Max is also formulated to help increase lean muscle mass, lower body fat, reduce stress and heighten physical endurance.
The issue is that Ageless Male isn't really the best test booster on the market. In fact it's quite poor, the Ashwagandha dosage is too low to be effective and the proprietary blend is laughably low. The vitamin blend is fine, but that's about it. And Ageless Male Max would be incredibly expensive as a multivitamin. Save yourself some money and get something from our best testosterone boosters list instead.
Ageless Male Max: Quick Take
Ageless Male max Pros:
Cheap
30-day returns policy
KSM-66 ashwagandha helps boost testosterone levels
Ageless male Max Cons:
Low doses
Limited range of ingredients. More like a multivitamin brand.
NOXPerform is a proprietary blend, unproven, and the benefits are unclear
Unlikely to increase lean muscle mass, reduce stress, or lower body fat significantly
Multiple unsubstantiated claims
What are the ingredients in Ageless Male Max?
Ageless Male Max is formulated as capsules to be taken twice daily. The provided doses comprise one daily serving.
Ashwagandha root Extract (KSM-66) – 338mg
This is the key ingredient in Ageless Male Max.
The patented full-spectrum extract of ashwagandha is popular in many natural testosterone booster products, though 600mg is the ideal dosage and less than 400mg is considered to be ineffective, as research indicates regular consumption can boost testosterone levels. [1]
NOXPerform (Spectra) – 100mg
NOXPerform Spectra is a curious inclusion in Ageless Male Max. It is made up of more than twenty ingredients, including extracts of coffee beans, green tea, turmeric, blueberry, and spinach.
This may sound impressive but at just a 100mg active dose and a proprietary blend of its smorgasbord of ingredients, it's hard to say what benefits NOXPerform provides. Most of the ingredients contained in one serving need to be consumed at much higher doses to have a positive effect.
Nonetheless, Ageless Male Max claims NOXPerform is a nitric oxide booster that will increase nitric oxide levels by 64 percent. However, we couldn't find any studies to back up this strangely specific figure.
Vitamin D – 41.65mg
Vitamin D is important to health for many reasons, and vitamin D deficiency is all too common among males in Western countries, with attending negative impacts on testosterone levels.
One 2011 study concluded vitamin D supplementation over one year, at a dose similar to that in Ageless Male Max, increased testosterone levels significantly. [2]
Niacin – 8mg
Niacin, also known as vitamin B3, helps lower cholesterol, regulate metabolism, and enhance cognitive function.
However, the dose in Ageless Male Max isn't particularly heavy – about as much as you would get from a can of tuna. And there is no clinical evidence to suggest it plays a role in boosting testosterone levels in humans.
Vitamin B6 – 1mg
Vitamin B6 suppresses the production of estrogen, thus indirectly increasing testosterone levels. Surprisingly though, there is only one study from 1984 conducted on rats that investigated the effect of vitamin B6 deficiency on testosterone production, so little can be said about what B6 dose may be appropriate. [3]
Vitamin B12 – 1.2mcg
Vitamin B12 also plays a major role in many important bodily processes, such as metabolism and red blood cell production.
Zinc – 15 mg
Zinc is another crucial mineral, whose deficiency is linked to lower testosterone levels. Research in this regard is limited, but one 2000 study found that a 30mg dose per day helped increase testosterone levels [4]. Another study tempers these findings though by claiming these effects are only pronounced in men who already have very low zinc levels. [5]
Does Ageless Male Max work?
Based on Ageless male Max's ingredients, it may provide a modest testosterone boost for men with already low levels, as well as deficiencies in zinc and vitamin D. But for most other men who are reasonably healthy but want an extra boost to complement their fitness regime, the benefits of Ageless Male Max will be limited.
That's because other than the relatively small serving of Ashwagandha, there's not a lot going on in Ageless Male Max. The jury is still out on NOXPerform, and all that's left are a few vitamins and minerals at standard doses. You would be as well just focusing on eating a little healthier or taking a couple of vitamin supplements.
Is Ageless Male Max?
Ageless Male Max is manufactured at FDA-approved facilities in the US, and its natural ingredients, free of caffeine, are unlikely to cause side effects. Still, check with a physician if you have an underlying health condition.
What do customers and reviewers think of Ageless Male Max?
Looking beyond the glowing reviews on the brand's website, with this section reassuringly subtitled "Real Customers, Real Reviews", customer reviews of Ageless Male Max are a mixed bag.
We find this surprising as there are so many better testosterone booster products out there that it's hard to imagine so many people settling for what is subpar.
On many reputed health and wellness blogs, they share our take on Ageless Male Max's limited ingredients and tame doses that don't live up to the bold claims of the manufacturer.
Ageless Male Maxx review: Conclusion
As should be clear by this point, we think Ageless Male Max is more hype than the real deal.
The fact that it's cheaper than many better testosterone booster products (around $30 for a month's supply), and that it's available to buy at many major retailers, probably means many customers decide to give it a try over its competitors, like TestoFuel, which is one example of testosterone booster brand that doesn't hold back with its ingredients or doses.
This is a shame as, to our minds, Ageless Male Max is still overpriced for what you get, which is little more than a bottle of multivitamins with a dollop of ashwagandha thrown in.
What are the alternatives to Ageless Male Max?
So, what else is out there? Plenty!
Check out our list of the best testosterone boosters to get an idea of the more premium brands that live up to their hype.
References
Lopresti, A. L., Drummond, P. D., & Smith, S. J. (2019). A Randomized, Double-Blind, Placebo-Controlled, Crossover Study Examining the Hormonal and Vitality Effects of Ashwagandha ( Withania somnifera) in Aging, Overweight Males. American journal of men's health, 13(2), 1557988319835985. https://doi.org/10.1177/1557988319835985
Pilz, S., Frisch, S., Koertke, H., Kuhn, J., Dreier, J., Obermayer-Pietsch, B., Wehr, E., & Zittermann, A. (2011). Effect of vitamin D supplementation on testosterone levels in men. Hormone and metabolic research = Hormon- und Stoffwechselforschung = Hormones et metabolisme, 43(3), 223–225. https://doi.org/10.1055/s-0030-1269854
Symes, E. K., Bender, D. A., Bowden, J. F., & Coulson, W. F. (1984). Increased target tissue uptake of, and sensitivity to, testosterone in the vitamin B6 deficient rat. Journal of steroid biochemistry, 20(5), 1089–1093. https://doi.org/10.1016/0022-4731(84)90348-0
Brilla, L.R., & Conte, V. (2000). Effects of a Novel Zinc-Magnesium Formulation on Hormones and Strength. Journal of Exercise Physiology.
Koehler, K., Parr, M. K., Geyer, H., Mester, J., & Schänzer, W. (2009). Serum testosterone and urinary excretion of steroid hormone metabolites after administration of a high-dose zinc supplement. European journal of clinical nutrition, 63(1), 65–70. https://doi.org/10.1038/sj.ejcn.1602899