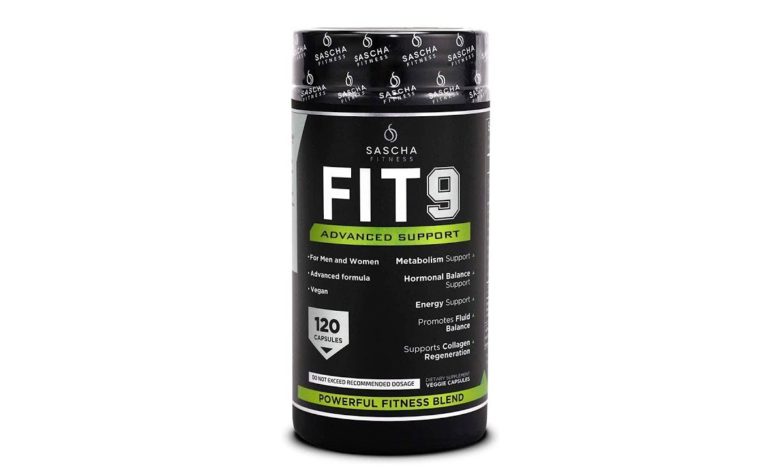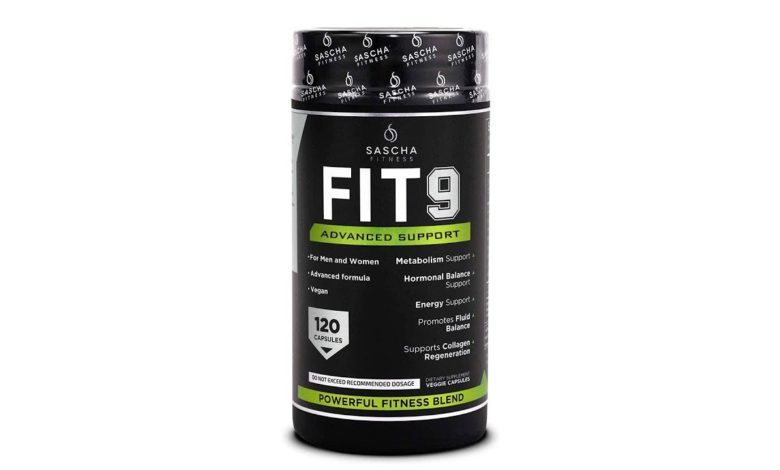 Fit9 Review: Is It An Effective Weight Loss Supplement?
What Is Fit 9?
Fit 9 is a pill designed to help you lose weight that's manufactured by Sascha Fitness, a health and wellness company based in the USA that sells weight loss supplements and provides a platform for various fitness resources.
Its main weight loss supplement is Fit 9, which is formulated for men and women but targeted primarily at women. According to Sascha Fitness, Fit 9 helps with fat loss through the following ways:
Provides metabolism support
Promotes hormonal balance
Boosts energy levels
Promotes fluid balance
Supports collagen regeneration to reduce cellulite.
As well as this, the manufacturer claims it may have a positive effect on mood and stress.
Pros:
Positive Amazon reviews
Interesting ingredients
Inexpensive
Cons:
Lacks potent thermogenic fat burner
No effective appetite suppressant
Proprietary blend
Limited evidence to back up certain ingredients' purported benefits
Fit9 is ultimately a weight supplement to claim to be a fat burner, to be honest we wouldn't really say that it is a fat burner, if you're looking for a weight loss aid that is actually designed for the job then we recommend picking something from our best fat burners list.
What Are Fit 9's Ingredients?
Fit 9 is made up of what Sascha Fitness terms nine "super ingredients" which come in the form of a vegan-friendly capsule.
These are formulated to be taken four times a day, but Fit 9 recommends starting with two to assess your tolerance levels.
Fit 9 comprises more than 2300 mg of active ingredients but unfortunately, we won't be able to inform you of the exact dose of each of the ingredients, as the brand hides its formulation behind a proprietary blend.
This is a big problem for us, and it should be for others who are interested in using dietary supplements to help them lose weight. An ingredient's dosage determines its effectiveness. As such, the dose largely validates or invalidates the science behind its inclusion as a weight loss ingredient.
Without this information, it makes weight loss supplements more of a game of trial-and-error than it needs to be. Plenty of other weight loss brands, such as Instant Knockout, are transparent about their ingredients and doses. There's no good reason why Fit 9 can't be either.
7-Keto
7-keto occurs naturally in the body as a hormone buts its levels decline with age. Fit 9 includes it primarily for its capacity to increase resting metabolic rate. There have only been two studies on this to date, both with overweight participants. [1, 2]
One found no change in metabolism while the other reported a slight increase. The first was at a dose of 100mg, and the other was 200mg taken over eight weeks.
Dandelion Root
Dandelions are known to safely decrease fluid retention, improve carbohydrate metabolism, and reduce fat absorption.
Only one study indicates dandelion may help reduce fat levels, but this was at an incredibly strong dose which Fit 9 is unlikely to contain. [3]
Gotu Kola
Often dubbed the "herb of longevity", gotu kola is used in traditional medicine to enhance cognition, improve blood circulation, and aid digestion.
Fit 9 includes it mainly for its ability to stimulate collagen growth so as to limit unsightly cellulite and stretch marks. Once again though, the only study to date backing this up had a small sample size and concerned a 60 mg dose. [4] We have no idea how much Fit 9 contains.
Diindolylmethane (DIM)
DIM is a compound found in many leafy vegetables that regulates your body's balance of estrogen and helps remove estrogen imitators that derive from household products which signal to your body to hold on to weight.
One 2017 study found DIM administration significantly suppressed obesity but, again, at a dose of 50mg per kilogram. [5] We can't say how much Fit 9 contains but it is surely less than this.
Green Tea
Green tea contains many antioxidants and nutrients that provide a range of health benefits. In terms of fat loss, one meta-analysis of multiple studies concluded green tea has a small positive effect on weight loss and weight management.
Uva Ursi
The leaves of uva ursi are used in herbal medicine to improve kidney function, helping to remove excess water from cells.
L-Theanine
L-theanine is an amino acid found in green tea which helps to promote relaxation and cognitive function.
Ginko Biloba
Ginko biloba is a tree that's been used in Chinese medicine for its strong antioxidant effects and anti inflammatory properties. In particular, it increases blood flow and is believed to improve memory and mood.
Does Fit 9 Work?
The biggest problem with Fit 9 as a natural fat burning supplement is that we don't know how much there is of each ingredient so it's difficult to say for sure how effective it is likely to be with fat loss.
That said, based on what we do know, the scientific evidence behind many of the ingredients included in Fit 9 is inconclusive at best or otherwise concerns greater doses than are to be found in their capsules.
What's more, even without knowing the doses, Fit still lacks a potent thermogenic ingredient to help with fat loss. Keto-9 doesn't cut it, and limiting fluid retention will only achieve so much.
We also find the exclusion of an effective appetite suppressant, such as glucomannan, a particularly odd decision. Instead, much of the focus of Fit 9 appears to be on a few exotic ingredients that are yet to be comprehensively researched.
What Do Customers and Reviewers Think Of Fit 9?
That's our take, but what do customers make of Fit 9?
Surprisingly, Fit 9 performs very well on Amazon with a lot of sales and strong customer reviews. We wondered whether a lot of the positive reviews (which are mostly in Spanish) stem largely from the loyal fanbase of Venezuelan fitness influencer Sascha Barboza, who owns the Sascha Fitness brand.
Reviews from health blogs are more mixed. Some are effusive in their praise, and likely fake, while others from reputed sources take a more nuanced view. They also take issue with the emphasis on diuretics, as well as the proprietary blend and lack of fat burning ingredients, such as cayenne pepper for example.
Is Fit 9 Safe?
Fit 9 is manufactured at GMP-certified facilities but does contain ingredients that may cause mild side effects, as seen in numerous customer reviews. These include headaches, excessive urination, low blood pressure, and stomach aches.
If you have an underlying condition, it's best to consult with your physician before taking Fit 9.
Fit 9 Review: Conclusions
Fit 9 has a famous face behind it and that's why we think it sells well. We don't trust proprietary blends at face value but the ingredients list also doesn't inspire a great deal of confidence that this is a real deal fat burning supplement that will help you lose body fat.
There are other more tried and tested fat burners out there, such as Instant Knockout, that are transparent about their ingredients and deliver on their promises. Check out our best list of fat burners to find the best brands for increasing metabolism, satiety, and energy levels, while burning more calories as you rest.
References
Zenk, J. L., Frestedt, J. L., & Kuskowski, M. A. (2007). HUM5007, a novel combination of thermogenic compounds, and 3-acetyl-7-oxo-dehydroepiandrosterone: each increases the resting metabolic rate of overweight adults. The Journal of nutritional biochemistry, 18(9), 629–634. https://doi.org/10.1016/j.jnutbio.2006.11.008
Zenk, J.L., Helmer, T.R., Kassen, L.J., & Kuskowski, M.A. (2002). The effect of 7-Keto Naturalean™ on weight loss: A randomized, double-blind, placebo-controlled trial. Current Therapeutic Research-clinical and Experimental, 63, 263-272.
Zhang, J., Kang, M. J., Kim, M. J., Kim, M. E., Song, J. H., Lee, Y. M., & Kim, J. I. (2008). Pancreatic lipase inhibitory activity of taraxacum officinale in vitro and in vivo. Nutrition research and practice, 2(4), 200–203. https://doi.org/10.4162/nrp.2008.2.4.200
Bylka, W., Znajdek-Awiżeń, P., Studzińska-Sroka, E., & Brzezińska, M. (2013). Centella asiatica in cosmetology. Postepy dermatologii i alergologii, 30(1), 46–49. https://doi.org/10.5114/pdia.2013.33378
Yang, H., Seo, S. G., Shin, S. H., Min, S., Kang, M. J., Yoo, R., Kwon, J. Y., Yue, S., Kim, K. H., Cheng, J. X., Kim, J. R., Park, J. S., Kim, J. H., Park, J., Lee, H. J., & Lee, K. W. (2017). 3,3′-Diindolylmethane suppresses high-fat diet-induced obesity through inhibiting adipogenesis of pre-adipocytes by targeting USP2 activity. Molecular nutrition & food research, 61(10), 10.1002/mnfr.201700119. https://doi.org/10.1002/mnfr.201700119