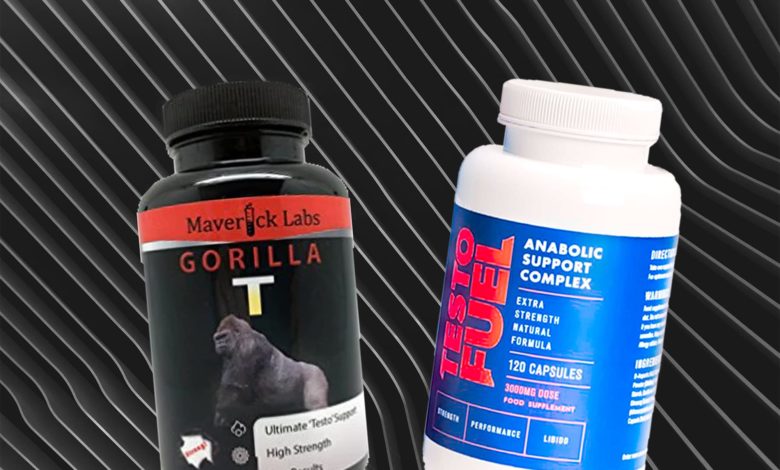 TestoFuel v Gorilla Test Booster Review
You train most days. You eat the right stuff to build muscle mass. You rest well and take care of yourself. And yet you still feel lethargic, don't see a marked improvement in your muscle definition, and your sex drive isn't what you'd like it to be.
If that sounds familiar, then at least take comfort in knowing you're far from alone.
It's likely you're one of the many men with lower than optimal testosterone levels. It's a simple fact of life that as men age their t-levels start to wane.
That's a problem for those looking to improve their physique as testosterone is crucial for building muscle. Without it, your workouts are like swimming against the tide.
But accelerated muscle growth isn't the only benefit. Boosted testosterone levels also help burn body fat, heighten libido and elevate your overall mood.
Natural Testosterone Booster Pills
In the past, many men responded to their declining testosterone levels by turning to steroids or some other synthetic testosterone booster.
The trouble with these is they have severe negative side effects, and the positive results are often short-lived.
Using plant-based testosterone booster pills with natural ingredients allows you to experience the gains of elevated t-levels long-term without the adverse effects.
But that doesn't mean there aren't cowboy vendors out there peddling shoddy or sub-par natural testosterone boosters. It's still important to do your homework on the workout supplements you take.
With this in mind, we're going to compare two popular natural testosterone boosters on the market today – Gorilla Testo and TestoFuel's testosterone booster pills – to assess their t-boosting claims and determine which is the best testosterone booster for you to get the most out of your workouts.
First up, Gorilla Testo.
Gorilla Testo Booster Review
Gorilla Testo is the "ultimate alpha male support" that claims to promote greater energy, muscle mass and libido by naturally stimulating testosterone production.
Gorilla Testo is formulated and produced by Maverick Labs, a UK-based company with several other health supplement products in its range but nothing new in the past few years.
There are many elements to consider in a review for natural t-boosters, but the most important is of course the ingredients and their doses.
With regards to Gorilla Testo, the first red flag is the lack of information concerning dosages.
As a proprietary blend with 500 mg of 'active ingredients', Maverick Labs has chosen to keep this info to itself so you simply don't know how much of each ingredient you're getting.
Not only that, it's debatable whether some of the ingredients in Gorilla Testo are as effective at boosting testosterone levels as the manufacturer would like you to believe.
Not that you could press them on this, even if you wanted to. While Gorilla Testo is available to buy at various online retailers, Maverick Labs appears to have shut its doors for good.
Gorilla Testo Ingredients
D-Aspartic Acid (D-AA)
D-aspartic acid forms a solid basis for many natural testosterone boosting products.
It's an amino acid that raises your luteinizing hormone levels. This hormone, in turn, then triggers the production of your body's growth hormones, including testosterone.
Studies indicate that D-AA supplements can raise t-levels effectively and quickly, with one showing an increase of 15 percent within a week and an impressive 42 percent after just 12 days. [1]
There's still some debate over what the most effective dose of D-AA is though. Some natural t-booster manufacturers claim lower doses of D-AA, around 600 to 1000 mg, are more effective in the long-term as they won't supplant your body's natural ability to produce this amino acid.
Others argue that the impact on testosterone levels at such a dose is non-existent, so doses in the region of 2000 mg to 3500 mg are required.
Given that Gorilla Testo only contains 500 mg of active ingredients per serving though, it's clear the D-AA dosage is on the low side.
Shilajit
Shilajit is a herb originating from the Himalayas that's been used in Ayurvedic medicine for centuries to help increase strength, stamina, vigour and vitality.
A 2016 study put such claims to the test and found the plant increased testosterone levels in a sample of 45 to 55-year-old men by 20 percent following 90 days of consecutive use. [2]
However, this was at a dose of 250 mg taken twice daily. While we can't be sure, it's unlikely that Gorilla Testo contains as much shilajit as this.
Maca Gelatinizada
Maca is a plant of Peruvian origins that's traditionally been used as an aphrodisiac. It's part of the same plant family as broccoli, radish and watercress, and like them, it is rich in fibre, calcium and iron.
Maca may heighten sexual desire but its testosterone boosting credentials are dubious at best. One study from 2002 assessed maca's impact on the libido and t-levels of male volunteers over 12 weeks. While heightened sexual desire was reported after 8 weeks, there was no discernible difference in testosterone levels compared to the placebo group. [3]
It's worth noting as well that this study was conducted with hefty doses of either 1,500 mg or 3,000 mg of maca, well above what Gorilla Testo contains.
L-Arginine
L-arginine is an amino acid your body produces to help increase blood flow by increasing your nitric oxide levels.
While healthy blood flow is indeed important to absorb testosterone, there's no evidence to suggest that l-arginine directly stimulates t production or that it has any discernible effect on muscle strength. [4]
Rather, some research indicates that l-arginine may help treat the symptoms of low t levels, such as erectile dysfunction. [5]
L-arginine is, however, a precursor to creatine, a renowned supplement for athletic performance.
Tribulus Terristris
Tribulus Terrestris is a leafy plant that also goes by the name of goat's head and puncture vine.
The root and fruit of Tribulus have been used in traditional Indian and Chinese medicine for centuries to heighten libido, stave off infections and reduce swelling.
In recent years, it's become a common ingredient in natural testosterone boosters but scientific research doesn't back up its supposed t boosting credentials.
A comprehensive review of 12 studies of Tribulus concluded it did not increase testosterone levels in humans, but may do so in some animals. [6]
It is, however, a powerful aphrodisiac but only at strong doses of between 750 mg to 1,500 mg. Gorilla Testo doesn't contain anywhere near these levels though.
Zinc Magnesium Aspartate (ZMA)
ZMA is also commonly found on the ingredients' list of health and workout supplements.
It comprises three ingredients – zinc, magnesium and vitamin B6 – which your body needs all of at sufficient quantities in order to produce testosterone.
Magnesium aids t production by inhibiting a protein called the Sex Hormone Binding Globulin (SHBG) which binds to testosterone and removes its anabolic potency, thus rendering it ineffective.
Zinc, meanwhile, can significantly increase testosterone levels, according to one 2018 study [7], as can vitamin B6. Research indicates B6 deficiency leads to an increase in t-levels [8], while large amounts of the vitamin can actively reduce levels of estrogen – a testosterone-inhibiting hormone – by up to 30 percent. [9]
Gorilla Testo Ingredient Summary
Gorilla Testo's insistence on proprietary blends is a big problem for health-conscious individuals who want to know exactly how much of a substance they are consuming. It also raises doubts about whether the doses are consistent from capsule to capsule.
What's more, it's very difficult to see how Gorilla Testo can deliver on its promise to boost testosterone, build muscle, and heighten libido with only 500 mg of active ingredients.
There are also some ingredients included whose t boosting value is questionable at best, like maca and Tribulus. Furthermore, Gorilla Testo is guilty of some glaring omissions, such as fenugreek, oyster extract, and stinging nettle, all of which would undoubtedly improve the product.
Finally, the capsules contain gelatin so are not suitable for vegans.
Gorilla Testo Usage Guidelines
Each bottle costs £14.95 and contains 90 capsules to be taken three times a day.
Is Gorilla Testo Safe?
Gorilla Testo is most likely perfectly safe to use, according to the manufacturer's guidelines. However, there's no indication that it's been manufactured in a GMP-certified facility. This means there is indeed a risk that it's been produced in an unsafe environment where it could have become contaminated.
If this is of concern to you, then steer clear.
TestoFuel Review
TestoFuel is formulated and manufactured by Roar Ambition, a health supplement company with GMP-certified facilities in both the USA and the UK.
Roar Ambition claims TestoFuel naturally increases your testosterone level to accelerate muscle growth, burn body fat, and furnish you with the drive and motivation to train harder.
Big claims, but do they stand up to scrutiny? Let's dive into the ingredients.
TestoFuel Ingredients
Compared to Gorilla Testo, TestoFuel displays its all-natural ingredients like a badge of honour.
The dose of each ingredient is clearly labelled, as well as how much each goes towards your recommended daily intake.
TestoFuel bases its formula on the latest scientific research, the result being substantial doses of the right ingredients.
The three main components of TestoFuel, according to the manufacturer, are D-aspartic acid, vitamin D and oyster extract. On top of that, there are another six ingredients to help you raise your testosterone levels quickly, easily and safely. Here they are in full view.
D-Aspartic Acid (2300 mg)
As we covered earlier, D-aspartic acid (D-AA) is crucial to testosterone production, and that's why so many testosterone booster producers make sure to include it in their formulas.
TestoFuel contains a larger dose of D-AA than most other t boosting products. However, some t booster manufacturers claim "less is more" when it comes to D-AA, though the limited studies to date seem to suggest that this is only the case at extremely high doses of six grams or so. [10]
It's clear that more research is required to determine the optimal D-AA dose for testosterone production.
Vitamin D (100 mg)
Vitamin D is important for a range of bodily functions and processes, and that includes building muscle.
Indeed, it's often termed the sixth steroid hormone thanks to the role it plays in supporting anabolic hormones like testosterone.
A 2011 study found that vitamin D administered daily at 80 mg increased testosterone levels on average in 165 participants by 53.5 nmol/l from a baseline of < 50 nmol/l. [11]
TestoFuel formulators also included 18 mcg of vitamin K2 into the mix on the basis of research that showed vitamin D works alongside vitamin K2 to release even more of the testosterone that your body naturally produces. [12]
Oyster Extract (100 mg)
Oysters are renowned for their libido-boosting qualities, and with good reason.
They are a source of many minerals and nutrients necessary for sexual health and enjoyment, as well as omega-3 fatty acids which research suggests improves testicular function and increases semen volume – key indicators of healthy testosterone levels. [13]
In particular, oysters are a great source of zinc, which is clinically proven to boost testosterone levels in men who are deficient in the mineral. [14]
TestoFuel Ingredient Summary
In addition to these three main ingredients, TestoFuel boasts another six that work to complement the testosterone boosting effects of D-AA, vitamin D, and oyster extract.
We've already mentioned vitamin K2, but there are also healthy doses of zinc and magnesium, which amplify the effects of the oyster extract. TestoFuel also contains considerable doses of ginseng and fenugreek, two plants that are well-known for their t boosting properties. [15]
Finally, TestoFuel has 5 mg of vitamin B6, which does just about everything in the body from keeping your skin, eyes, hair and liver healthy to regulating haemoglobin in your blood. Another of vitamin B6's functions is to encourage testosterone production and inhibit estrogen production.
Not only does TestoFuel have the right ingredients to give your t levels a boost, but it also has them in the right quantities. And it isn't secretive about it.
TestoFuel Usage Guidelines
Each capsule of TestoFuel contains 3000 mg of active ingredients and each bottle contains 120 capsules. It's recommended to take four of these a day and has been specially formulated so there's no need for post-cycle therapy.
So, a month's supply of TestoFuel costs £39.00, but big savings are on offer for bulk orders. If you order three months' worth, for instance, you get another month thrown in free.
Is TestoFuel Safe?
TestoFuel only contains natural ingredients manufactured in certified facilities in the USA and the UK. There's no risk to using TestoFuel, so long as you follow the manufacturer's guidelines.
TestoFuel has been tried and tested for years with no known side effects.
Gorilla Testo v TestoFuel – The Verdict
There's no contest here. TestoFuel is a superior product.
If you are thinking of naturally boosting your t levels, then it's likely you've already wasted time at the gym without getting the desired results.
Don't waste more of it with Gorilla Testo.
It's a subpar product made by a now-inactive company that clearly didn't have the stamina to compete with its more effective rivals.
TestoFuel is more expensive, but the price difference is more than worth it.
Frequently Asked Questions
Will Gorilla Testo Lower Estrogen Levels?
Not particularly, in fact, one study found that maca root (contained in Gorilla Testo) can actually raise estrogen in women. [16] This is not really likely to be an issue for men, but worth noting.
Will TestoFuel Lower Estrogen Levels?
Thanks to TestoFuel's inclusion of Oyster extract, it has anti-aromatase properties. Meaning that it can inhibit aromatase which is responsible for the conversion of testosterone into estrogen. This will ultimately lead to a drop in estrogen over time.
Is Gorilla Testo Safe?
Our research and editorial team have found nothing to worry about in the ingredients list. As you can see from the product review, Gorilla Testo is useless but safe. It would still be a good idea to discuss with a professional physician beforehand.
Is TestoFuel Safe?
Yes, TestoFuel is filled with high-quality ingredients that are safe and effective. When taking any pills or supplements it is a good idea to consult with a licenced healthcare provider before using them.
References
https://www.scirp.org/html/1-1990018_24016.htm
https://pubmed.ncbi.nlm.nih.gov/26395129/
https://pubmed.ncbi.nlm.nih.gov/12472620/
https://pubmed.ncbi.nlm.nih.gov/12093449/
https://pubmed.ncbi.nlm.nih.gov/32586418/
https://pubmed.ncbi.nlm.nih.gov/27255456/
https://acikerisim.bartin.edu.tr/handle/11772/4694
https://pubmed.ncbi.nlm.nih.gov/6727359/
https://jissn.biomedcentral.com/articles/10.1186/s12970-015-0078-7
https://pubmed.ncbi.nlm.nih.gov/21154195/
https://pubmed.ncbi.nlm.nih.gov/11886767/
https://jamanetwork.com/journals/jamanetworkopen/fullarticle/2758861
https://pubmed.ncbi.nlm.nih.gov/8875519/
https://pubmed.ncbi.nlm.nih.gov/15983313/
https://pubmed.ncbi.nlm.nih.gov/21116018/
https://pubmed.ncbi.nlm.nih.gov/23675005/