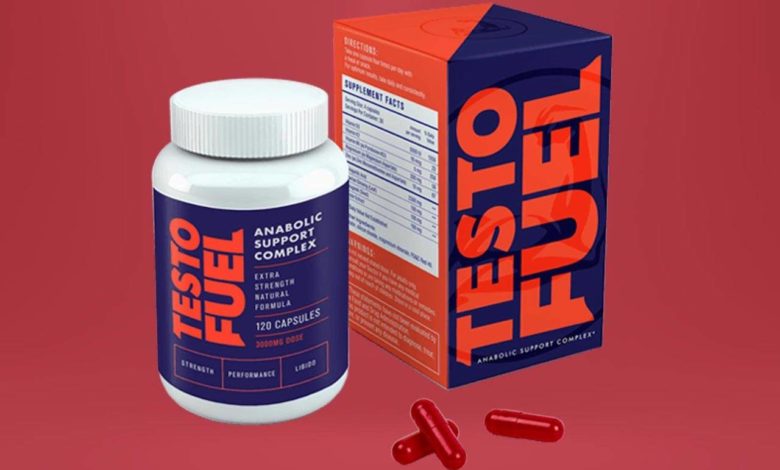 Testofuel V Testo Lab Pro Review
Testo Lab Pro T-Booster v TestoFuel
Thanks to advances in our understanding of how nutrients, minerals, and vitamins interact with our bodily processes, there is now a range of high-quality, natural testosterone boosters available.
The era of dangerous, synthetic steroids and growth hormones being used to treat low testosterone is over. Enter the era of testosterone boosting supplements.
Now, using natural testosterone boosters in combination with a healthy and balanced diet, you can naturally increase testosterone levels to burn more fat, promote muscle growth, increase muscle strength, boost energy and heighten libido. And, unlike with artificial t-boosters and caffeine-loaded gym pills, these results are long-lasting and have no adverse side effects.
But which natural testosterone booster is right for you?
Let's take a look in detail at two of the most popular testosterone boosters on the market – Testo Lab Pro T-Booster and TestoFuel – to determine which can best help you achieve the desired results in the most cost-effective, seamless way.
First, we'll consider the most important aspect of any testosterone booster – the ingredients and their dosages. Then, we'll dive into customer reviews and product safety and quality controls.
Testosterone Booster Summary
Testo Lab Pro T-Booster and TestoFuel both contain quality ingredients in doses that do raise testosterone levels, as well as other elements that promote t-boosting synergies. That said, TestoFuel proves itself a level higher in terms of results and customer service. With Testofuel you are more likely to see rapid improvements in muscle mass, muscle strength, hormonal balance, erectile function, and sex drive, while simultaneously losing body fat.
Testo Lab Pro Review
Testo Lab Pro T-Booster is nutritional supplement for raising testosterone designed and formulated in the UK by nutraceutical company Opti-Nutra, then manufactured at a facility in the USA.
Opti-Nutra has developed a multitude of formulas that enhance the body's biological functions, and Testo Lab Pro T-Booster is no exception. In this Testo Lab Pro review we will find out how this testosterone boosting supplement can increase muscle mass, improve male hormone production, improve body composition, increase red blood cells,
Its ingredients have been carefully selected and formulated to increase testosterone production in men.
Testo Lab Pro T-Booster's Ingredients
Testo Lab Pro T-Booster comprises nine active ingredients that are scientifically proven to boost testosterone production in various ways, combating the negative effects of low testosterone.
The first batch of ingredients restores key nutrients many men over 30 lack like zinc, magnesium, vitamin K, vitamin D, and boron, which are essential to encouraging significantly higher testosterone levels. Furthermore, these aren't just conventional supplements found in health shops.
The second batch of ingredients builds on these foundations to actively raise your testosterone levels, though they tend to be present in lower doses than their competitors, in particular TestoFuel. Testo Lab says its 'less is more' approach is the result of "precise calibration", though it's probably wise to take this claim with a pinch of salt.
D-Aspartic Acid (600 mg)
D-aspartic acid (D-AA) is an amino acid that acts as a messenger molecule. In effect, it tells your body to start producing testosterone.
Scientific research shows significant increases in free testosterone after just a few days of taking DAA – 15 percent after six days and 42 percent after just 12 days! [1]
Testo Lab Pro T-Booster contains 600 mg of D-AA per serving, which is a little on the low side compared to other t-boosters. TestoFuel, for instance, contains 2300 mg of DAA per serving.
Opti-Nutra insists that high doses of D-AA, say between 1500 mg to 3000 mg, are only effective for a short period of time, although this claim doesn't appear to be substantiated with research.
KSM-66 – Ashwagandha Root Extract, 5 percent Withanolides (600 mg)
KSM-66 is perhaps the crown jewel in Testo Lab Pro T-Booster.
It is an advanced form of ashwagandha, a root that's been used for centuries in Ayurvedic herbalism to boost masculine energy. This claim is now well-supported by modern scientific research.
KSM-66 is an organic, patented form of ashwagandha that's been extensively researched and has demonstrated its effectiveness at boosting testosterone levels – both free testosterone and total testosterone – with one study showing an increase of 17 percent in 90 days. [2]
Not only that, the same study reported a staggering 167 percent increase in sperm count, 53 percent increase in semen volume and a 57 percent increase in sperm motility.
Mucuna Pruriens Extract – 15 percent Levodopa (300 mg)
Mucuna Pruriens is a bean that's been revered for centuries in Ayurvedic, East Asian, and Brazilian herbalism for its masculine vigour-promoting properties.
Modern scientific research reveals the active ingredient in mucuna that's responsible for boosting testosterone levels, heightening libido, and increasing virility is levodopa (L-DOPA). This raises dopamine levels while reducing prolactin, the hormone responsible for man-boobs and lactation. [3]
Levodopa is present in concentrations of around 4.2 percent in Mucuna. Testo Lab Pro T-Booster packs in concentrations of 15 percent levodopa. There are few other ways to obtain such high potencies of this crucial t-boosting compound, since consuming too much raw mucuna can have adverse health effects.
Luteolin – Orange Extract (60 mg)
Luteolin is an antioxidant that indirectly aids testosterone production by blocking aromatase, which is the enzyme responsible for converting testosterone into estrogen.
Luteolin, therefore, maximises the testosterone-producing impact of D-AA, KSM-66, and levodopa. This is crucial for men over 40 in particular since this is when the testosterone to estrogen conversion rate starts to increase rapidly. [4]
Testo Lab Pro T-Booster Ingredients List In Full
Testo Lab Pro T-Booster is administered inside vegan NutriCaps, made from fermented tapioca and infused with a probiotic to aid digestion and absorption. It's recommended to take four of these per day, ideally twice in the morning and twice in the evening, to experience the full benefits. This is considered one serving.
Here's the full list of ingredients contained in Testo Lab Pro T-Booster, and the amounts provided per serving.
Ingredient
Amount Per Serving
% Daily Value
Vitamin D
50 mcg
250
Vitamin K1 and K2
50 mcg
42
Magnesium
50 mg
12
Zinc
30 mg
272
Boron
6 mg
†
D-Aspartic Acid
600 mg
†
Ashwagandha Root Extract – KSM-66 (5 % withanolides)
600 mg
†
Mucuna Pruriens Extract (15 percent levodopa)
300 mg
†
Luteolin (from orange extract)
60 mg
†
† = Daily Value not established
Testo Lab Pro T-Booster Money Back Guarantee
Testo Lab Pro offers a 30-day money-back guarantee for its Pro T-Booster products with no questions asked. This gives some peace of mind when making a purchase, but it's significantly less than the 90 days that TestoFuel provides.
This could be an indication that Testo Lab Pro is confident you will notice results quickly, but it could be of concern for those who think it might take their body a little longer to get up to speed.
Testo Lab Pro T-Booster Customer Reviews
Customer reviews on the Testo Lab Pro website show a healthy score of 4.5 out of 5 stars, but there are no written accounts of what customers appreciated most about the product and what could be better. Plus, it's important not to take product reviews on the product's website itself at face value.
In general though, trusted online reviewers report a notable increase in testosterone levels, complemented by an improvement in mood and libido.
However, some reviewers lament the low doses of certain ingredients, like D-AA and vitamin D, which are proven t-boosters, plus the fact that it's exclusively for men, unlike other testosterone booster products such as TestoFuel which women can also take.
The price point is also an issue for many, especially given some of the modest doses. Three months' worth will set you back £147.00.
Testo Lab Pro T-Booster Quality Control and Side Effects
Testo Lab Pro T-Booster is formulated in the UK and manufactured in the USA, as such it is approved by health regulators in both countries, as well as in Canada and the EU.
It is USDA Organic Certified as well as holding a certification from the Natural Products Association.
Testo Lab Pro T-Booster is also tested by an independent third-party laboratory to assess purity, potency, label accuracy, and overall quality.
None of the ingredients in Testo Lab Pro T-Booster produce unwanted side effects when consumed at the recommended doses. However, the safety of lupedova in high quantities for women who are or may become pregnant has not been fully established. This is why the product is not recommended for women.
Pros
Top of the line patented ingredients
Free worldwide shipping
Effective results
Cons
Expensive
Exclusively for men
Low doses of D-AA and vitamin D in particular
TestoFuel Testosterone Booster
TestoFuel comes courtesy of Roar Ambition, one of the world's leading and most trusted specialist supplement brands.
With high-class research and manufacturing facilities in both the USA and the UK, Roar Ambition's health supplement products are all GMP-certified and shipped worldwide for free.
TestoFuel is the company's natural testosterone boosting product. It's a proven and effective supplement that stimulates testosterone production to speed up muscle growth and recovery, burn fat, and increase libido.
How does it do this? And how does it compare to Testo Lab Pro T-Booster? Let's look at the ingredients and doses in detail to find out, then consider what customers make of it in terms of effectiveness, cost, and convenience.
TestoFuel's Ingredients
TestoFuel is made using nine ingredients specially chosen and formulated to boost testosterone levels, both total testosterone and free testosterone.
As with Testo Lab Pro T-Booster, TestoFuel contains what could be considered the 'base' nutrients necessary to restore your body's ability to produce testosterone. These include magnesium, zinc, vitamin D, and vitamin K 2.
Additionally though, TestoFuel also contains vitamin B6, otherwise known as pyridoxine. Research shows that B6 deficiency leads to significant drops in testosterone levels [5], while high levels of the vitamin can reduce estrogen build-up by as much as 30 percent. [6] In essence, vitamin B6 amplifies the testosterone-boosting effects of the other ingredients by ensuring it doesn't convert into estrogen.
Crucially, many of TestoFuel's ingredients come in higher doses than those in Testo Lab Pro. Plus, there are a few proven T-boosting ingredients present that Testo Lab Pro overlooks.
Let's take a more detailed look at those testosterone boosting ingredients in TestoFuel, and see how they match up with what's on offer in Testo Lab Pro T-Booster.
D-Aspartic Acid (2300 mg)
As covered earlier in this article, D-aspartic acid (DAA) is essential for testosterone production.
It regulates the release of the luteinizing hormone from the pituitary gland which then instructs your body to make more testosterone. According to one study, 90 days of using DAA supplements can boost testosterone production by as much as 60 percent. [7]
The main difference between TestoFuel and Testo Lab Pro T-Booster concerning DAA is the dosage found in each product. While Testo Lab Pro opts for a modest 600 mg, TestoFuel contains 2300 mg of DAA.
Testo Lab Pro claims higher doses can be counterproductive in the long-term yet many DAA studies report testosterone boosting benefits at between 2 and 3 grams, so it is unclear what this claim is based on.
Oyster Extract (100 mg)
It's no surprise that everyone's favourite aphrodisiac makes it into TestoFuel's ingredient list.
Oysters are a zinc-rich food that contain the nutrients taurine and glycogen which, taken together, boost libido and reproductive function. [8] They also have high levels of DAA and vitamin D, which help top up the effects of these testosterone-boosting compounds.
Ginseng (100 mg)
Ginseng has well-known health-enhancing properties that include improved mood, immune response, and cognitive ability.
Additionally, it directly boosts t-levels even with short-term use by increasing the release of luteinizing hormone and adrenocorticotropic hormone which both stimulate free testosterone production. [9]
Ginseng also elevates nitric acid levels in the blood and assists with insulin regulation, which helps you build muscle quicker and stay lean. [10]
Fenugreek (100 mg)
Fenugreek is a plant common in the Mediterranean that's loaded with zinc, magnesium, and selenium, and so is a popular ingredient used in many t-boosting products.
These nutrients work together to inhibit the production of the sex hormone-binding globulin (SHBG) protein, which has a negative effect on t-levels. Research indicates that even small amounts of fenugreek can significantly boost testosterone production in the body. [11]
TestoFuel Ingredients List in Full
While Testo Lab Pro T-Booster insists lower doses can yield better results, TestoFuel packs in strong concentrations of its ingredients into the capsules it recommends to take four times daily to achieve optimum testosterone levels.
Ingredient
Amount Per Serving
% Daily Value
Vitamin D3
100 mcg
500
Vitamin K 2
18 mcg
23
Vitamin B6 (as Pyridoxine HCI)
5 mg
250
Magnesium
200 mg
50
Zinc
10 mg
67
D-Aspartic Acid
2300 mg
†
Asian Red Panax Ginseng
100 mg
†
Fenugreek (seed)
100 mg
†
Oyster Extract
100 mg
†
† = Daily Value not established
TestoFuel Money-Back Guarantee
While free samples of TestoFuel are not on offer, you can try it for up to 90 days with a full money-back guarantee. If you're not satisfied with the results at the end of this generous trial period, you'll get back every penny you paid with no questions asked.
TestoFuel Customer Reviews
Customer reviews on TestoFuel's website are incredibly effusive in their praise for the product. And what sets it apart from the positive ratings on the Testo Lab Pro website is that these reviews come with detailed explainers and before-and-after photos that demonstrate TestoFuel's effectiveness.
Online reviews from reputable health-focused websites are equally glowing about TestoFuel. Each one we have come across noted significant increases in testosterone production, muscle growth, energy, libido, and even overall mood.
TestoFuel Quality Control and Side Effects
TestoFuel is formulated and manufactured in certified facilities in the USA and the UK, from where it is shipped worldwide. Its manufacturing processes and the quality of its ingredients are therefore strictly monitored.
There are no known side effects to using TestoFuel at the recommended doses unless you are allergic to any of the ingredients. Everything in TestoFuel has been tried and tested for many years with no adverse effects.
Pros
Strong doses of proven t-boosting ingredients
Relatively inexpensive
Impressive reviews
Endorsed by Professional Bodybuilders
Generous money-back guarantee
Cons
Not vegan (oyster extract)
Only available to buy on company's webshop
Key Takeaways – Testo Lab Pro T-Booster or TestoFuel?
Both test boosters, Testo Lab Pro and TestoFuel, are high-quality products that are helping bring natural testosterone-boosting products, and their attendant benefits, into the mainstream.
In our opinion though, the Testo Lab Pro review revealed Testofuel as the superior testosterone supplement for several important reasons.
First, its doses are reassuringly strong compared to Testo Lab Pro. Four times as much D-AA. Twice as much Vitamin D. And a big helping of oyster extract to boost the doses and effects of zinc and magnesium.
Not to mention it contains several essential t-boosting ingredients that aren't present in Testo Lab Pro, like fenugreek and ginseng. Sure, Testo Lab Pro contains mucuna and ashwagandha instead, but these ingredients are a bit more of an unknown element to many, and their benefits seem more attuned to virility than directly boosting testosterone levels.
When this is considered alongside the fact that TestoFuel is around £30 cheaper than Testo Lab for a three-month supply, and that it comes with a 90-day money-back guarantee, it's clear to us that TestoFuel is a better bet, especially for a first-time buyer.
References
Topo E., et. al. (2009) The role and molecular mechanism of D-aspartic acid in the release and synthesis of LH and testosterone in humans and rats. https://rbej.biomedcentral.com/articles/10.1186/1477-7827-7-120
Ambiye, V. R., et al. (2013). Clinical Evaluation of the Spermatogenic Activity of the Root Extract of Ashwagandha (Withania Somnifera) in Oligospermic Males: A Pilot Study. Evidence-based complementary and alternative medicine : eCAM, 2013, 571420. https://doi.org/10.1155/2013/571420
Shukla, K. K., et al. (2010). Mucuna Pruriens Reduces Stress and Improves the Quality of Semen in Infertile Men. Evidence-Based Complementary and Alternative Medicine: eCAM, 7(1), 137–144. https://doi.org/10.1093/ecam/nem171
Martin, L. J., & Touaibia, M. (2020). Improvement of Testicular Steroidogenesis Using Flavonoids and Isoflavonoids for Prevention of Late-Onset Male Hypogonadism. Antioxidants (Basel, Switzerland), 9(3), 237. https://doi.org/10.3390/antiox9030237
Symes, E.K., et al. (1984) Increased Target Tissue Uptake of, and Sensitivity to, Testosterone in the Vitamin B6 Deficient Rat. J Steroid Biochem; 20(5): 1089-93
Allgood, V.E., et al. (1992) Vitamin B6 Modulates Transcriptional Activation by Multiple Members of the Steroid Hormone Receptor Superfamily. J. Biol. Chem; 267: 3819–3824
D'Aniello, S., et al. (2012) D-aspartate, a Key Element for the Improvement of Sperm Quality. Adv. Sex. Med; 2: 47–53
7. Matsuda, Y., et al. (2003) Effects of Oyster Extract on the Reproductive Function of Zinc-Deficient Mice: Bioavailability of Zinc Contained in Oyster Extract. Congenit Anom; 43(4): 271-9
Salvati, G., et al. (1996) Effects of Panax Ginseng C.A. Meyer Saponins on Male Fertility. Panminerva Med; 38(4): 249-54
Pitteloud, N., et al. Relationship Between Testosterone Levels, Insulin Sensitivity and Mitochondrial Function in Men. Diabetes Care; 28(7): 1636-1642
Wilborn, C., et al. (2010) Effects of a Purported Aromatase and 5α-Reductase Inhibitor on Hormone Profiles in College-Age Men. Int J Sport Nutr Exerc Metab; 20(6):457-65