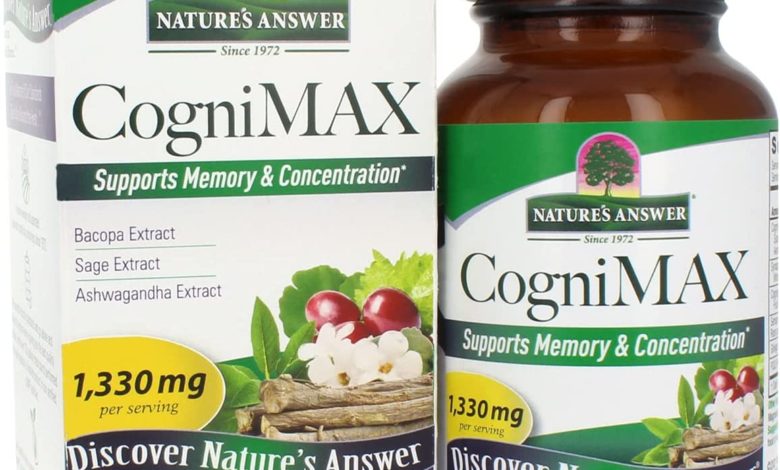 Cognimax Review – Will it help to improve cognitive function?
Nootropic supplements are something of a dream come true for some people, as brain fog and difficulty focusing are both very common issues plaguing modern society. Nootropics can provide solutions to these problems, and get you back on track to being on the top of your game.
At least, that's the sales pitch, and there are genuinely some fantastic nootropic supplements out there that will help to improve memory recall, improve mood, and overall increase focus, cognitive ability and mental performance. The question that remains is simple: What are the benefits of cognimax?
Well to start off we're gonna come out straight and say right now that if you suffer from any of the aforementioned ailments then we do not recommend Cognimax as an optimal solution. Though the formula has some great ingredients that are clinically studied and shown to have benefits, there are simply better supplements out there for the job.
Instead we recommend Hunter Focus, which provides all of the best ingredients that are included in cognimax and pairs it alongside a fantastic vitamin and mineral blend, designed specifically to support brain health as much as possible and some great amino acids, such as L-Theanine and L-tyrosine, both of which contribute greatly towards cognitive performance.
With that out of the way let's dive into the review proper.
Cognimax Overview
Pros
Improve memory
Natural ingredients
Clinically proven
Cheap subscription model
Improve mental clarity
Cons
Some ingredients under dosed
Doesn't help improve focus
Ingredients Breakdown
Cognivia – Organic sage and Spanish sage 400mg
Always love a bit of sage on your pork? Well you could be unknowingly boosting your cognitive health as Cognivia is a combination of different sage species extracts, and there's some evidence to suggest it could support cognitive abilities.
We found a study that included 94 participants and had 49 of these participants on placebo and half on 600mg of cognivia every day for 29 days, and then had them participate in a number of different tasks designed to test their brain function.
These tests show that supplementing cognivia has a significant effect on cognition, showing it can improve memory recall substantially [1].
One thing to note is the dosage here is 400mg, not the tested 600mg and secondly, this 2021 study was the only study we could locate online, and this means that until the results can be replicated in laboratory conditions, the results should be taken with a pinch of salt.
Being huge lovers of sage and onion stuffing and incredibly intelligent (and good looking) people, our office may very well be proof enough of this one, but we'd need more scientific data to say for sure.
Synapsa – Waterhyssop 320mg
The waterhyssop is quite a common inclusion for a nootropic supplement, though it's normally listed under the much more medical latin name, bacopa monnieri, or just bacopa extract. Synapsa is simply another name for this same ingredient, with us being able to identify no discernible difference.
The popularity in the ingredient is reflected in the clinical literature, as it's been tested in numerous different ways, most commonly to observe its effects on Alzheimer disease.
We found a systematic review of 8 high quality clinical trials that showed the commonality of positive results [2]. One of these studied had 46 healthy adults take 300mg/day over 12 weeks and found significantly improved speed of visual information procession, learning rate, and memory consolidation when compared with placebo, with maximal effects evident after 12 weeks.
This same review brings up another trial and found after 3 months of chronic use (300-450mg) that there was not a significant increase to rate of learning at this point, but instead the rate of forgetting was significantly lessened in word pair recall trials.
The dosage here is good and the data supports its use, so nature's answer gets a thumbs up from us for this one.
Cognigrape – Red grape juice 300mg
You may have previously spoke to some drunk middle aged woman who claimed the secret to her vitality is red wine, and the crazy thing is there's likely some truth to that. Red grapes are packed to the brim with helpful polyphenols and anti-oxidants that help with everything from brain health and cognitive functions to joint health support.
In our research we found a randomised, double-blinded clinical trial that showed 12 weeks of Cognigrape is safe, can improve physiological cognitive profiles, and can concurrently ameliorate negative neuropsychological status in healthy older adults [3].
In a study on its effects on youthful health, red grape juice was found to significantly improve reaction time and also increased calmness ratings when compared to placebo [4]
Red grape juice is also known to reduce oxidative stress in the brain, helping to reduce the risk to neurodegenerative diseases such as Alzheimers.
Sensoril – Ashwagandha 200mg
Typically used as a way to calm anxiety and stress, Ashwagandha is a shoo in for any decent nootropic supplement. Less stress and anxiety inevitably leads to improved mental clarity and focus support.
We found a study that took 64 subjects with a history of chronic stress and supplemented a capsule of 300mg ashwagandha root twice a day. They observed a significant reduction in scores on all the stress assessment scale on day 60, relative to the placebo group. This showed reduced cortisol levels, with no serious adverse events reported but some mild adverse events were present [5].
We found another study that took 20 healthy male participants and provided then with 250mg twice a day for a period of 14 days. The results showed significant improvements in reaction times with simple reaction, choice demonstration, digit symbol substitution, and card sorting tests when compared with placebo [6].
One thing you'll notice is that in both trials, participants were instructed to take the capsules twice a day, whereas the two capsule serving size of Cognimax only provides a total of 200mg, which leaves a lot to be desired in terms of dosage.
Ginkgo Biloba 100mg
One of the oldest living tree species in the world, with fossils of the leaves being discovered that date back more that 200 millions years. Ginkgo biloba has a long history in traditional Chinese medicine. Nowadays it finds itself in this nootropic supplement, but is there any clinical evidence for this use?
We found a systematic review and meta-analysis of ginkgo biloba that states that despite the several studies done on its effectiveness in neuropsychiatric conditions, these results remain controversial. It has been tested on everything from ADHD to Autism, with a general lack of evidence being provided.
In Dementia however, it has some promising results and from the eight studies including in this review, it was shown that ginkgo biloba differed significantly from placebo, providing beneficial effects in both cognition and activities of daily living [7].
The dosing ranges from 80mg to 120mg, depending on the weight of the subject so 100mg is a nice middle ground from the dosage, and although it may leave some larger people with less effect.
PQQ Disodium Salt 10mg
Though it main seem odd, sodium in general is actually majorly important for maintaining brain health and here we have a great case for that.
We found a study that tested 64 healthy subjects (aged 40-80 years old) that were randomly assigned to either received a placebo or 21.5mg daily over a period of 12 weeks. A total of 58 participants completed the study and showed significant improvements on composite memory, verbal memory, reaction time, complex attention, cognitive flexiblity, executive function, and motor speed when compared to the placebo group, with no adverse events being observed [8].
Unfortunately the dosage here is more than half of what has been observed to providing these positive effects and as such, we just don't expect these positive effects to be provided when taking cognimax.
Cognimax Cost
Cognimax is priced $49.99 per bottle, providing 30 servings (60 capsules twice a day), but there is also a subscription model in which you can have Cognimax delivered every month, every two months or every 3 months for $26.99.
Verdict – Is Cognimax good for brain health?
All in all, Cognimax is a fine nootropic supplement and for the price range it falls into, it would fall into the middle of the road. This is why it's a difficult product to really recommend, as the places in which it succeeds are minimally useful and for those looking for that boost, there are better ways to get it.
That's why instead we highly recommend Hunter Focus, as despite the price difference the increase to the benefits received are astronomical. With Hunter Focus no matter what issues you're facing, whether it's low energy levels, brain fog, or just wanting to increase focus and cognitive functions, Hunter Focus has you covered.
Its clever formula includes a great blend of essential vitamins and minerals that is designed specifically to increase concentration and reduce the risk of developing neurodegenerative diseases such as alzheimers disease.
It also has L-tyrosine, an amino acid that is known to improve cognitive performance in young adults during high environmental stress.
This is all within a great, transparent formula that shows the brand have all the faith in the world that they have created an amazing product designed to help you to achieve your goals.
You can purchase Hunter focus by clicking this link.
Customer Cognimax Reviews
Curiously, there is actually very little in the way of online presence for Nature's answer, and as such very little to go on in the way of customer reviews.
There is an amazon product page in which there are a lot of glowing reviews, and though this might be quite suspicious typically they do seem to be real reviews. There's some telltale signs that a company has issued bots for fake reviews such as a high amount of reviews conducted, whereas nature's answer only has about 11 reviews in total, and has come out with a respectable 3.9 out of five for it.
FAQ
It Cognimax safe?
With all natural ingredients cognimax should be safe for human consumption
Any side effects?
There are some reports of gastrointestinal issues after taking, but this is likely quite a rare issue. That being said we recommend you discontinue use immediately upon any adverse effects being observed and consult a medical professional as soon as possible.
Where can I buy Cognimax?
Nature's answer Cognimax is available for purchase directly, as well as on many online vendors which includes Amazon.
References
1 – https://www.ncbi.nlm.nih.gov/pmc/articles/PMC7828691/
2 – https://www.ncbi.nlm.nih.gov/pmc/articles/PMC3746283/
3 – https://pubmed.ncbi.nlm.nih.gov/29163162/
4 – https://pubmed.ncbi.nlm.nih.gov/28429081/
5 – https://www.ncbi.nlm.nih.gov/pmc/articles/PMC3573577/
6 – https://www.ncbi.nlm.nih.gov/pmc/articles/PMC3897003/
7 – https://www.ncbi.nlm.nih.gov/pmc/articles/PMC3679686/