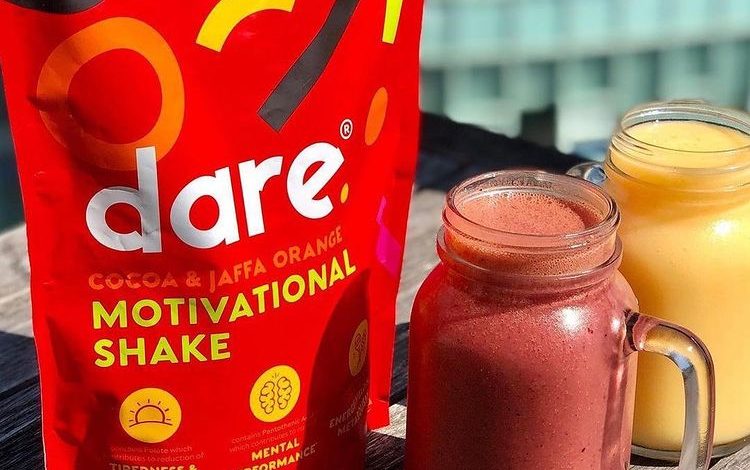 This Dare Motivation review will take a look at one of the quirkiest meal replacement companies on the market. But where does Dare Motivation rank on our all-time greatest list? Check out the top five here.
Dare Motivation is a UK-based meal replacement shake company that looks to rival fellow UK companies such as Huel, Rootana, and Purition. There is a lot to like about Dare Motivation. It has a great cost per serving, some top-quality ingredients, and a decent amount of protein.
This Dare Motivation review will take an in-depth look at the pros and cons, the ingredients list, and any suitable alternatives to Dare Motivation.
Dare Motivation At a Glance
Dare Motivation meal replacement shakes are high in protein, low in fat, and low in carbohydrates. They are primarily made up of seeds, tapioca, oats, and soy. Each shake contains a botanical blend, which serves as a natural vitamin and mineral complex.
There are 216 calories per serving, with just 5.4 grams of fats, 13.4 grams of carbohydrates, and 20 grams of protein.
There are four flavours available: Black forest gateau, cocoa and peanut butter, cocoa and Jaffa orange, and cocoa vanilla frosting.
Pros
High in protein
Amazing tasting flavours
Lots of high-quality ingredients
Gluten-free
High in fibre
Cons
Very low calorie
The cost per calorie is high
Low in healthy fats and carbs
Who Should Use Dare Motivation Meal Replacement Shakes?
Dare Motivation meal replacement shakes are ideal for vegans or for anyone who is looking to improve their nutrition. Due to the very low-calorie content per serving, it is difficult to see them as effective meal replacements, but as a supplement for someone looking to maintain or even gain weight, they could be excellent.
Of course, you could use it as a meal replacement, and you would see a big drop in weight, but it would not be sustainable in the long term.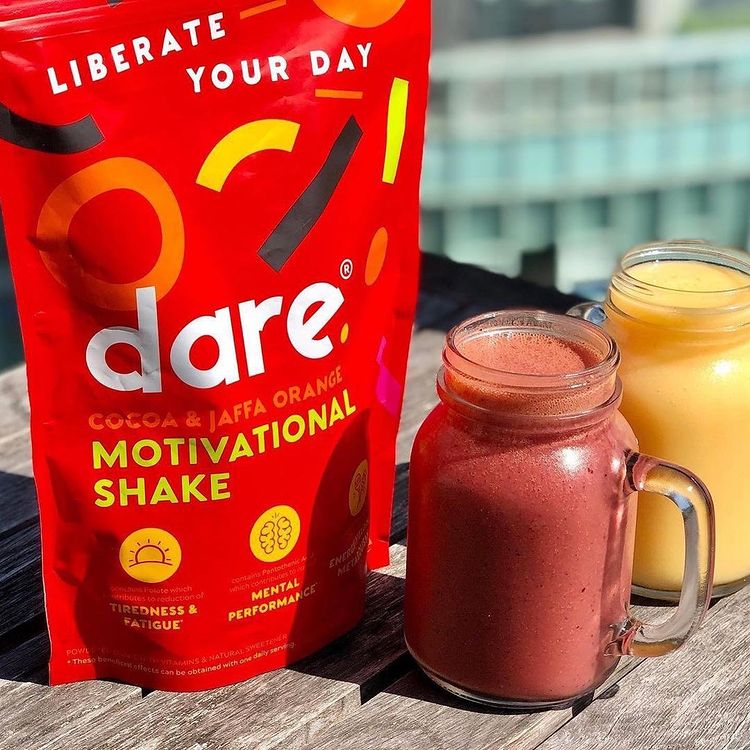 Dare Motivation Ingredients
There are quite a few ingredients in the Dare Motivation formula, many of which are found in the botanical blend. In this section, we will take a closer look at each ingredient and explain why Dare have included them.
Soybean Protein
Soy protein is very common in meal replacement shakes, but it isn't particularly popular with gym goers. Many people point to the downsides of having too much soy in your diet, with reduced testosterone in men being a big issue.
In reality, the amount of soy protein in a serving of Dare Motivation is unlikely to affect testosterone levels. But, if you are drinking 2-3 per day, then it may be an issue in the long term. Pea protein would have been a much better choice, particularly because it combines so well with brown rice protein powder, which Dare has in its formula.
Flaxseeds Powder
Flaxseed is a superb ingredient to add to your meal replacement shakes, particularly if you are looking to appeal to a plant-based audience. Flaxseeds contain the building blocks for omega-3 fatty acids, something that many vegans struggle to get enough of (most omega-3s come from fish).
Flaxseed also provides fibre, protein, and healthy fats. Flaxseed is also an excellent source of lignans, which are known to help reduce cholesterol and blood pressure and help protect against heart disease.
Tapioca Flour
Tapioca flour is becoming increasingly popular with meal replacement shake companies, and to be honest, we're struggling to see why! It has little nutritional value and is not known for its taste. Sure, it may provide a decent texture, but that's about it. There are much better carbohydrate sources out there.
Gluten-Free Oats
Oats are incredibly effective when they are used in meal replacement shakes, and they provide numerous health benefits. They can help to increase satiety after a meal, making it easier to avoid snacking between meals and therefore helping to make calorie-controlled diets easier.
They can also help to remove bad (LDL) cholesterol, protect against hypertension, and reduce your risk of cardiovascular disease or other metabolic diseases.
Oats also provide some protein and some healthy fats, and they can improve the taste and texture of meal replacement shakes. Dare Motivation has used gluten-free Scottish oats, so coeliacs and people who are intolerant to gluten can still enjoy their shake.
Pumpkin Seeds Powder
Pumpkin seed powder is not a commonly used ingredient, and they have been added for its zinc and magnesium content. They are also high in the amino acid l-tryptophan. This can help to improve mood, reduce anxiety and stress, and it can relax you.
Sunflower Protein Powder
Another interesting source of protein, sunflower seeds are high in B vitamins, vitamin E, and magnesium. As a protein source, they are decent, but the amount of protein from sunflowers in each serving is likely to be minimal.
Brown Rice Protein Powder
An absolutely superb protein source, brown rice is usually combined with pea protein, so it is a shame to see one without the other. Brown rice also offers fibre and micronutrients. It's a great addition to the formula.
Botanical Blend
Turmeric, Matcha & Green Tea, Acai Berry, Alfalfa, Spinach, and Kale
There are a lot of interesting ingredients included within the botanical blend, but it is important to note that the dosage is likely to be very small. Turmeric has many health benefits, but the ideal dosage is around 500 mg. Does Dare Motivation contain 500 mg of turmeric? Who knows. They certainly don't say.
The botanical blend is a proprietary blend in all but name. We know how many ingredients are contained within the botanical blend, but not the quantities. Making it very hard to fairly review this blend.
Stevia Leaf Extract
Stevia leaf extract is used to sweeten the shakes, some people really like the taste of stevia, but many people find that it has a bitter aftertaste that they can do without.
How to Take Dare Motivation Meal Replacement Shakes
Add 55 grams of Dare Motivation powder to 300 ml of water, tighten the lid of your shaker and then shake hard for 10 seconds. You can then either drink it straightaway or leave it in the fridge to thicken and get colder.
Due to the low calories per serving, you may want to consider doubling your serving size, though this would, of course, increase the price per serving.
If you want to customise the flavour, you can use milk or a non-dairy alternative instead of water. Adding fruit or some leafy greens (or both) can also help to improve the nutrition and change the taste.
Use a blender and add some ice cubes to really transform your shake. Just remember that everything you add (except for the ice cubes) will increase the calories. This is not a bad thing, considering how low in calories each serving is, but important to remember if you are dieting.
Are There Any Good Alternatives to Dare Motivation?
There are a large number of meal replacement shakes that would be a good alternative to Dare Motivation, but the three most obvious candidates would be Rootana, Instant Knockout Complete, and Huel.
Rootana is very similar to Dare Motivation in that it prioritises natural ingredients, but it provides you with 400 calories per serving, as well as plant-based protein, healthy fats, and low GI carbohydrates (with a lot of fibre). It uses natural coconut sugars to improve its taste instead of the semi-lab-created stevia leaf extract.
Instant Knockout Complete has better ingredients, is much higher in protein and fibre, and will deliver better fat loss results. While Huel has a more balanced nutritional profile than Dare Motivation.
Is Dare Motivation Safe? Side Effects
Yes, Dare Motivation is perfectly safe, it may have a few ingredients that some people are allergic to, but none of the ingredients are dangerous. There is a small amount of caffeine found in each shake, due to the green tea extract, but this is significantly less than a cup of coffee, and won't have any noticeable effect.
Dare Motivation Review
So, is Dare Motivation a good meal replacement shake? It's difficult to say. It is a good supplement with a lot of excellent ingredients, but considering the fact that it only contains 216 calories per serving, it can't really replace a meal.
This is the problem for companies such as Dare, Purition, and Ka'Chava. They want to fill their formula with a huge variety of healthy ingredients, but they also want to keep their costs low. So they end up with very small serving sizes, like a fancy French restaurant serving Haute Cuisine.
If you are looking for healthy meal replacement shakes that prioritise real food ingredients, then there are better alternatives to Dare Motivation. But that does not mean that Dare Motivation is a bad shake. It tastes amazing, has a lot of healthy ingredients, and if it could only increase the calories, it would be able to compete with the best!
Frequently Asked Questions
How many calories are there in Dare Motivation?
There are 216 calories in a single serving of Dare Motivation, which is quite low for a meal replacement shake but not unknown. Purition and Ka'Chava have similar calories per serving.
Is Dare Motivation gluten-free?
Yes, Dare Motivation shakes are gluten-free, containing less than 5 ppm per serving. This makes them safe for people who are intolerant to gluten and coeliacs.
Is Dare Motivation ketogenic?
No, Dare Motivation is certainly not ketogenic. The keto diet requires high-fat, low-carb, and medium protein. Dare Motivation is high-protein, low-fat, and low-carb. The only diet it would suit would be a high-protein diet.
What is the best flavour of Dare Motivation?
Cocoa vanilla frosting, this is not up for debate.